Movies To Watch While Binging Halloween Candy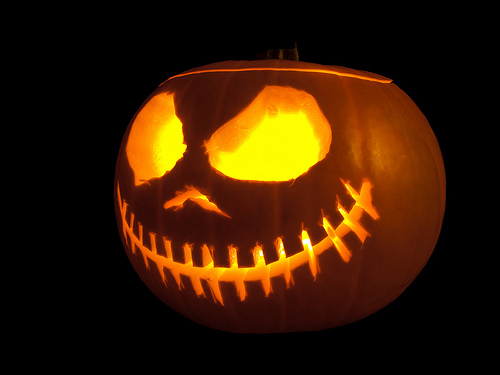 Hang on for a minute...we're trying to find some more stories you might like.
It's that time of year again: costumes, pumpkins, and trick-or-treaters. Seems like the perfect time to watch a spooky movie with family and friends to really get the Halloween spirit going!
Hocus Pocus
For anyone looking for a must-have Halloween classic, this movie is just right for you.
'Hocus Pocus,' which was produced in 1993 has become a family favorite around the month of October. Being an older movie, it may not have any recognizable actors but it is still worth watching.
This movie begins in the year 1693 in the town of Salem, which is well-known for its witches. A little girl is called away from her home, which does not go unnoticed by her brother, Thackery Binx. He chases after her into the forest and his worst fears are confirmed. His little sister has become the newest prey of the trio of witches that dwell within the forest: Winifred, who is essentially the leader, Mary, the 'child-tracker,' and Sarah, the siren-like sister who lures in the children. The Sanderson Sisters must kidnap children in order to suck their 'life-force' out of them, which prolongs their own lives. Before Binx can stop this, her sister is killed by the witches. In his efforts to save his sister, the witches punish him by transforming him into an immortal black cat. The townspeople, soon after, find the witches hideaway and hang the three sisters. Right before her death, Winifred speaks, casting her death-curse that "on All Hallows' Eve, when the mood is rough, a virgin will summon us from underground."
Flash forward 300 years. Max Dennison has just made the drastic change from Los Angeles to Salem, Massachusetts. He doesn't like the town at all, but what really gets under his skin is everyone's obsession with Sanderson sisters. Halloween night rolls around, and Max takes his little sister, Danny, out for some trick-or-treating. While they're out, they run into Max's crush, Allison.
Allison manages to convince Max and Danny to check out the Sanderson house. Once there, Allison tells Max the old legend about the sisters. Nonchalant Max laughs and tries it out for himself. Much to everyone's horror, it actually works. Now, the three children, along with Binx the cat, has to battle the witches throughout the entire night, with the lives of all the children of Salem resting on their shoulders.
Rated PG
Running Time: 1h and 36 mins.
The Nightmare Before Christmas
This live action film, directed by the very popular Tim Burton, was produced in 1999. It quickly became a tradition movie for both Halloween and Christmas, since it involves conflicts between the two holidays.
The movie starts out with a strong internal conflict within the main character, Jack Skellington. Even though he's the pumpkin king of Halloween Town, he is extremely bored of the same thing every year. One day, he takes a walk through the haunted forest and stumbles upon portals that lead to differnating holiday worlds. A single door catches his eye and he accidentally stumbles inside, getting transported to that world. Once there, he realizes that he has stumbled into Christmas Town and is instantly transfixed by the idea of it. When he returns home, he tries to convince all the residents of Halloween Town to take on this new holiday.
Through all of this, he has support from everyone in the town, including his admirer Sally. However, as they start to lay out their plans, it is obvious that the citizens of Halloween Town do not fully grasp the idea of a jolly Christmas. Jack still goes with it though, which has dire consequences.
Even though this movie's plot mainly centers around Christmas, the movie starts off right around the end of Halloween. It's characters also bring the spooky vibe, ranging from skeletons to half-dead zombies. The Nightmare Before Christmas definitely is a movie for someone wanting a classic Halloween movie for the whole family.
Rated PG
Run Time: 1h and 16 mins.
The Addams Family
Produced in 1991, everyone's favorite gothic family is back but now in a full-length feature film. The Addams Family is a year-round kind of movie, but it's especially needed towards Halloween time.
For 25 years, the father of the Addams family, Gomez Addams, has been fraught with sorrow about his brother Fester's disappearance. One day, however, his lawyer and his wife visit the Addams's home. There, they get roped into a seance, where the family attempts to contact Fester's spirit. Much to everyone's surprise, Fester himself appears at the front door, along with a psychiatrist who explains that Fester has been lost in the Bermuda Triangle for the past 25 years. Gomez is thrilled by this and immediately takes "Fester" in. The rest of the family including his wife and children, Wednesday and Pugsley, are suspicious of this sudden appearance, and they have good reason to. In reality, Gomez's lawyer owes money to the 'psychiatrist' (or Abigail) and had to devise a plan to get her money. The lawyer, Tully, realized that Abigail's son, Gordon, exactly resembles Fester. Using this to his advantage, he and Abigail decided to use Gordon as a Trojan Horse, making him their ticket into the Addams's fortune. Through many twists and turns, suspicions rise and fall. Ultimately, the family finally figures out the truth but that isn't where the action ends.
To figure out just what unravels in the end, you can watch this movie on Netflix. Remember, just because this movie's plot doesn't revolve around Halloween, doesn't mean that it isn't as spooky as all the others!
Rated PG-13
Run Time: 1h and 39 mins.
It's a good thing to keep in mind that no matter your age, these classic Halloween movies will always manage to bring some Halloween cheer to your day.