A write-up of the best pens for students
Hang on for a minute...we're trying to find some more stories you might like.
Pens are one of the most fundamental tools students use. When it comes to the best, in terms of quality and writing convenience, it's always a debate; countless brands means countless opinions. Here are a few pens Oakton students love, alongside a few of my personal favorites.
MUJI Gel-Ink Ballpoint Pen
These pens are a staple among the Oakton community, as well as my go-to when it comes to notetaking. In my opinion, they write smoother than any other and rarely bleed through to the other side of the paper. My only criticism would be that they do not fare very well with highlighters; a simple stroke will smudge your writing and stain your marker. I find the best quality in the 0.7mm point pens, as my handwriting is a little large for the 0.38mm, but the latter point is preferred by those with smaller handwriting. If you're interested, grab a 6-pack here.
Staedtler Triplus Fineliner
In my experience, Staedtler brand pens are a real hit-or-miss. Recently, I gave their Triplus Roller pens a try and was disappointed in their tendency to skip and the amount of pressure needed to get any ink out. I remain faithful, though, to their Triplus Fineliners; although they are not technically pens due to their felt tip, these pens are a wonderful alternate to the Paper Mate Flair Felt Tip Pens. If you are easily frustrated with gel pens, I would recommend you give these a try. Buy them here.
MUJI Hexa-oil Ballpoint Pen
"This is the absolute best pen," said senior Kari Tan. "It writes so smooth, it's great for taking extensive notes." On a test drive by myself, I found her statement to be true; this pen writes incomparably smooth. At only $1.50, this pen is a great deal if you're looking for a new default pen. Buy it here.
Sakura Gelly Roll Classic
If you're looking for the ink quality of a MUJI pen without the discomfort of hard plastic, the Sakura Gelly Roll pens are right for you. They're soft to the touch— making them great for long school days. The only downsides to these essential gel pens are the thickness of the points; they run between 0.8 and 1.0, so it's likely to smudge. On the bright side, they come in up to 70 different colors and textures that can spice up any worksheet. Read more about these pens here.
Papermate Inkjoy Pens
I have been a faithful user of these pens since the seventh grade, honestly. They are unchallenged when it comes to popularity, as they are readily available at our local Giant and Target nearly all the time. The rubber grip helps avoid a student's typical ring finger callus, and makes the writing experience just a little bit more pleasant. Not to mention, so many colors!

About the Writer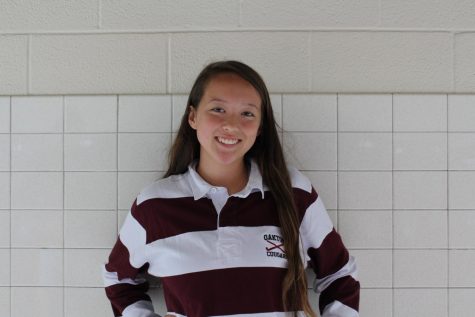 Emily Richardson, Editorial Board
My name is Emily, and I am a member of the Editorial Board for the Oakton Outlook and I have a passion for writing in all of it's forms. I am also member...