Alicia Keys 2019 Grammy's Performance
This year, Alicia Keys hosted the Grammys and opened the show with a speech,Michelle Obama and Lady Gaga joining her on state. Keys has won around 15 Grammys of her own the past years, including Best Rap song and Best Rap/Sung performance. The 2019 Grammys is the first time Alicia Keys has hosted, and she definitely did the job well.
During the Grammys, Keys wore a total of 5 outfits and they all looked beautiful. One of her outfit was her first dress of the night which was a red, long sleeve dress with a low V cut with a slit in the front. She paired the dress with a Bulgari necklace and earrings, a ring, and Aquazzura heels. Her hair was slicked back and tied up with two low ponytails on the side. For makeup, she went with a natural look and only a bit of highlight on. She wore her second outfit of the night, giving off 70's vibes, while she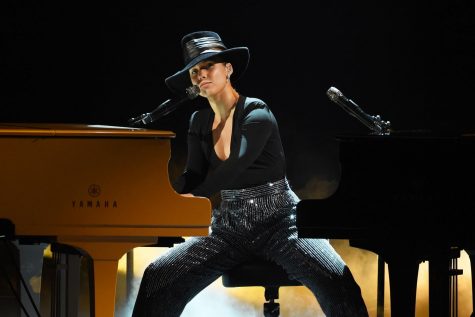 opened the Grammys. It was a teal green jumpsuit with wide legs that's fringed on the bottom and a tied waist. For accessories, she wore a Emilio Pucci headscarf and Cartier and vintage David Webb via Jill Heller jewelry. While performing for the Grammys, she was wearing a shimmering Balmain trouser and ALIX bodysuit with a black wide-brimmed hat and black and white hooped earring. She ended the night with something similar to her other outfits as in it was red and a jumpsuit. It was a gorgeous red Oscar de la Renta jumpsuit with a sheer red cape paired with bling from David Webb and Cartier again. She wore this to present the most honorable Grammy award which was the Best Record and Album of the Year. Her outfits she had on throughout the night was breathtaking and really showed that she put in lots of effort as host of the award show.
Alicia Keys started her performance playing "The Maple Leaf Rag" by Scott Joplin on not one but two pianos, sitting in between them with a hand on each. Her theme for the performance was "those songs that live inside of you because it was done so well you wish you wrote it.", said Alicia Keys herself. She sang many songs like "Killing Me Softly With His Song" by Roberta Flack and Fugees, "Lucid Dreams": by Juice WRLD, "Clocks" by Coldplay, and Drake's "In My Feelings". She sang and played songs that were written years ago up to very recent music that came out not too long ago. In between songs, she talked to the crowd to keep them engaged with the performance. She mashed up songs, playing one after another, and never taking her hands off the piano. Alicia Keys ended her performance with her own song "Empire State of Mind". Her act lasted about six minutes and the audience was hooked from the beginning. No one expected it to be as good as it was, and it's a performance that will be on people's minds for a while.
Alicia Keys definitely made an impression at the Grammys being the first woman to host in fourteen years, and also only the third women of color to host. In 2018 the Grammys Award show had lots of controversy for failing to recognize female artists, with having only one female artist win an award during the televised part of the show. Alicia Keys as host showed that the show acknowledged the criticism and made the Grammys less sexist. Hopefully her appearance will help more females become recognized during later years of the Grammys. Her performance was phenomenal and Alicia Keys made the 2019 Grammys award a year to not forget.