Post Malone's "Hollywood's Bleeding" Album Review
Rapper's new album offers fans a darker look at his art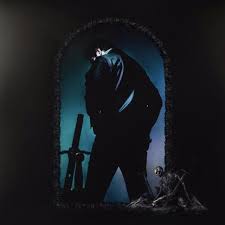 It's been over a year since Post Malone's immensely popular album Beerbongs and Bentleys was released. Now he's back and better than ever with Hollywood's Bleeding, released for streaming September 6th. And really, the album can only be summed up in a single word: haunting. Combining soulful singing with a touch of rap and a slew of talented guest artists, Malone's new album becomes an introspective look on the artist's past with an ambitious message for the future.
Malone kicks it off with a creepy, echoing intro that shares the same name as the album. "Hollywood's bleeding, vampires feeding / Darkness turns to dust," he sings, immediately immersing listeners into the shadowy world he's concocted for the album. He continues this theme of echoey tunes and lyrics throughout the project, creating an overarching theme for the project that defines it at its core. The next song, "Saint-Tropez," follows the dismal tone, and it isn't until the third song on the album—the widely popular "Enemies"— when the mood begins to truly pick up. One is almost reminded of the stereotypical image of fluctuating soundwaves as each song plays, the beat rising and falling with Malone's masterful voice and instrumentals.
Going hand-in-hand with the theme of darkness tinging the album is Malone's frequent references to someone in his past, and his relationship with this unnamed entity isn't exactly pleasant. The opening bars in "Hollywood's Bleeding" indicate a falling-out with the person, but the bad blood doesn't end there. His attitude toward this special someone doesn't get any friendlier as the album progresses, as he demonstrates on "Take What You Want:" "Yeah, you preyed on my every mistake / Waited on me to break, held me under hopin' I would drown." These lyrics are bitter, almost violently so in their disgust for the mystery person, and it is this spiteful intensity that also drives the album forward, ever-present in the background.
Hollywood's Bleeding is not without its added talent, and the guest list for the tracks is as star-studded as it is diverse. From the clever lyrics of fellow rappers DaBaby, Young Thug, and Travis Scott to pop stars Halsey and SZA, each guest artist adds a new ingredient to the album while at the same time melding their tones with Post's mellow one. Perhaps most surprising on the list is the presence of Rock-n-Roll veteran Ozzy Osbourne on the track "Take What You Want," and his ghostly, disconnected vocals on the chorus do not disappoint. Like them or hate them, every feature helps in developing a central message about Post Malone's future; he simply will not let himself get assigned to one specific category of music.
Overall, Post Malone's third studio album is a dark and widely-ranged look into the mind and past of the artist. Malone never once fails to keep fans entertained and thinking about his deep lyrics throughout the album. Sure, the darker hues of certain songs may appear intimidating to some listeners, but he balances out this darkness nicely with a string of talent-filled collaborations and a wide scope of other tunes. Malone also succeeds in shrugging off any attempts to assign his work a label, choosing instead to give the album a wide range across multiple music genres. The end result is a beautifully personal track list that speaks to listeners no matter what sort of music is their favorite. And for listeners who themselves don't yet know what genre most appeals to them, Hollywood's Bleeding is a great place to start.