John Ferri: Singing Sensation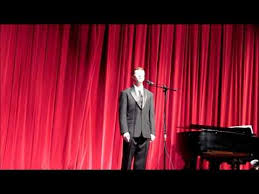 Hang on for a minute...we're trying to find some more stories you might like.
Senior John Ferri is noted for both his fantastic vocals and his obvious devotion to the art of singing. After years of participating in the Oakton Singers, Ferri has received an invitation to join the Virginia State Chorus. The VA Chorus is regarded as the most highly regarded high school singing group competition in the state; it consists of different groups of singers from around Virginia competing at the All-Star State Chorus Event in April. There are two groups: the mixed chorus and the women's chorus. From each section in Virginia, four boys and eight girls are chosen to sing in the state chorus. All four boys and half the girls are put into the mixed chorus while the other four girls are assigned to the women's choir. This year, John Ferri auditioned for the Virginia State Choir with the song Shenandoah and recently received his invitation to participate. This is clearly a tremendous opportunity for Ferri who has sung for 5 years and is doing a great job of it. When asked what he enjoyed most about singing, Ferri answered with storytelling. "You can set a tone, create a mood, connect with people, and show how the human spirit is a profoundly, unique, complex, multi-faceted art form that is core to the human experience. Singing is just a really fun, engaging, collaborative, and connecting experience." Ferri's musical prowess does not come as a surprise as his family is just as talented. His mother is also a great singer and pianist while his younger sister Julia loves the guitar and is able to play both the piano and cello as well. Ferri is hoping to attend Emory University in Atlanta and definitely plans to keep singing because singing "is a wonderful passion." He enjoys listening to nearly all genres of music, including but not limited to, jazz, classic rock, blues, and reggae.