Ruel-Free Time World Tour at Songbyrd Cafe
Katie Le, Editorial Board
October 31, 2019
     Ruel Vincent van Dijk is a 17-year-old singer/songwriter from Sydney, Australia. He began gaining attention after he was discovered by M-Phazes, a producer and artist. Soon, Ruel released a song titled "Don't Tell Me" which garnered even more recognition by the public. As other artists began hearing about him, Khalid had him as the opening act for some of his shows on a recent tour. Through the years, Ruel has produced more songs including "Younger", which has earned him spots on the charts, awards, and even more fans. In 2019, Ruel released an album titled Free Time and embarked on a worldwide tour based off this album. I got the chance to go to one of his concerts at the Songbyrd Cafe in Washington, DC and see if he was as good as he was in his recordings.     
     The Songbyrd Cafe has a music venue in the basement of the cafe. Many artists have used this venue for their shows and many have enjoyed the spot because of the funky basement vibes. On this date, Ruel performed both an early and late show because the first show sold out too fast, so he decided to have two shows. I enjoyed it because the space wasn't too big so you were able to be close to the artist, where as if it was in a larger venue you would be farther away from the artist unless you paid a lot. I was able to be right in front of the stage and Ruel was less than a foot away from me at times during the show.
     Fans of Ruel love him because his songs are relatable and his voice is amazing and unique. It's safe to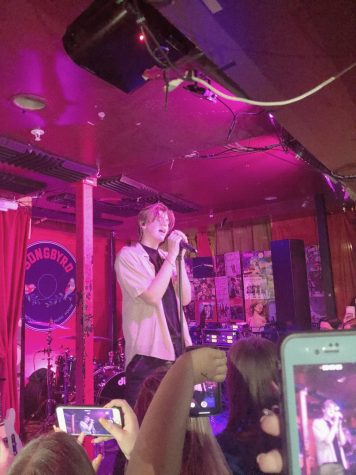 say that Ruel's voice is the same in his songs and in person, and he is even better in person just like Khalid. His voice is absolutely breathtaking and you can hear his emotions through his singing, which helps fans understand him and his message more. Ruel has a great vocal range and his runs are incredible, and fans were able to see that at the concert. He interacted with the crowd and talked to them in between his songs. He sang most of the songs off his recent album including "Free Time" and "Don't Cry", but didn't sing all because he had the late show right after the early show. He left the stage after performing Hard Sometimes, and fans were extremely sad because they thought it was his last song he was going to perform. Ruel came back on stage and performed one last song titled Younger, which is one of his most famous songs. Fans were left with a bittersweet feeling because although they got to see him perform, it was sad that it was over.
     The concert was a great experience and I would do it all over again if I could. Ruel is one of the best singers I have ever heard and seen perform. His voice is so pure and his songs give such great vibes while being relatable. I'm glad I got the chance to see him in person before he gains more attention, and if you ever get the chance to go yourself, I wholeheartedly recommend it.