1/4 NBA Season Review
Now that the NBA season is a quarter of the way done it's time to look at what has happened so far.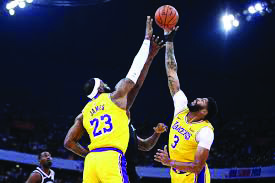 The 2019-2020 NBA season is officially more than a quarter of the way done. As all NBA people know the quarter mark is a big enough sample size to judge players and teams. So what teams and players have surprised fans this year and what teams have been disappointments. 
Biggest surprise: Suns. Most people had the suns fighting for the top lottery pick not the playoffs. But after the quarter mark of the season the suns are in playoff contention in the West. Devin Booker has shown that he can be the leader of a winning team while still putting up great numbers. The suns great start also cements Kelly Oubre's place squarely in the most improved race. Oubre is having a career year, and it could be the next jump for him in his young career. PErhaps a change of scenery was all he needed. Speaking of scenery changes, Aron Baynes and Ricky Rubio have proven to be two of the best off-season acquisitions. While I believe that Rubio's 54 million dollar deal was a bit steep it has payed off in the short term. Baynes has played great this year as well, much better than anyone could have predicted. 
Biggest surprise part 2: Luka and the Mavs. No one expected Luka Doncic to be putting up MVP numbers as a twenty year old second year player, but it's happening. Doncic is playing like a superstar this year, and the Mavs are enjoying the rewards. The Mavs have left the playoff race and have joined the host a first round playoff match-up race. Doncic likely won't win MVP this year, Giannis will, but he will surely be an all star and most likely a member of the all-NBA. The Mavs have the best offense, and perhaps will be a major threat in the playoffs this year. 
Biggest Disappointment: Denver Nuggets. The Nuggets had one of the league's best offenses and defenses last year. While the defense is still there, the Nuggets can't seem to score the ball. Jokic and Murray have been sub par at bet this year, and the Nuggets are taking notice. Will Barton has started handling the ball more, and as of December 10th, Michael Porter Jr. has started getting some real playing time off the bench. I expect MPJ to continue to get more minutes in hope he can give the Nuggets a scoring spark off the bench. While Denver will still make the playoffs this year, if they can't work through these issues there is no way they will go far in the playoffs.