Review of The Haunting of Bly Manor
Did Netflix hit their new show out of the ballpark?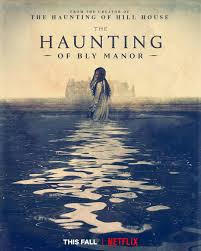 The Haunting of Bly Manor is a nine episode series on Netflix about a naive American nanny who travels to England. She manages to land a job homeschooling two elementary school children at an isolated manor in the English countryside. The series is both a mystery and horror and the viewer is constantly trying to puzzle through the dark secrets of Bly Manor. 
The show is also a love story that has been masterfully interwoven into a horror. A lesbian romance represented in the media is unbelievably rare, and The Haunting of Bly Manor represents the women love women community in a way not often seen on TV. This beautiful romance blended with the need to see what happens next makes the show extremely addicting. The series is guaranteed to haunt you long after you finish with its ending full of melancholy and heartbreak.
However, this type of show can be addicting for some and a total bore for others. The Haunting of Bly Manor is a mystery, and those who don't enjoy solving mysteries themselves on television should not watch it, as they'll likely find it extremely boring. If you are a fan of mysteries, romances, or the occasional horror, this show is for you. However, if you don't like any of those things, I would not recommend wasting your time. It's the type of show that you either love or hate; there's no in between. 
The Oakton Outlook interviewed Ellie Ludwig (10) about the show. "So far it's really good. There's symbolism that I find really interesting. The acting's good even for the children which is fairly rare these days. I also like the scenery and spookiness of the show." The Haunting of Bly Manor draws you in and doesn't let you go. Once it hooks you, you become so curious and emotionally invested that you can't not finish the show.