PSAT day
Oakton sophomores take the PSAT for the first time
Dozens of sophomores arrive at Oakton High School on a bright and chilly Monday morning.  It's PSAT day, their first taste of the many standardized tests they'll take before college. The PSAT is also known as the preliminary SAT and can only be taken once a year. The test is two hours and 45 minutes long and tests your skills in reading, writing, and math. With masks and social distancing, the PSAT was far from normal, but it was a success nevertheless.
Oakton Outlook interviewed three sophomores on their experience taking the PSAT for the first time. Noah West said that the PSAT  "wasn't terribly difficult – I ended up having extra time between different portions of the test." He also mentioned that he "felt like it was fairly safe…although distancing was not heavily enforced outside of the classroom." This made him curious as to how things will function once everything goes back to normal in the fall.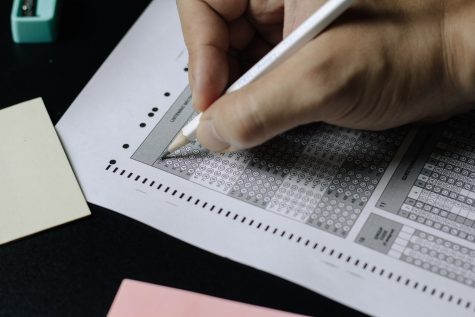 Anushka Saraf said that it "felt super weird being in a library with everyone wearing masks because I remember before quarantine we would be doing the PSAT without masks and social distancing.  Of the exam itself, she mentioned that the hardest part was how early she had to go. Both Noah and Anushka mentioned how they weren't super nervous about the PSAT because it was just a baseline for what they need to study in the future.  
However, Pallavi Mamillapalli said that she felt dread before the exam because she couldn't gauge how hard it would be and if she had studied enough. She also mentioned that most of her emotions towards the test were of dread and nerves, but that she was also excited to see her friends because she hadn't seen them in over a year. For Pallavi and many others, it was their first time in the school since the start of the COVID pandemic, back in March 2020. "Seeing my classmates was the best part of the PSAT. I was worried that I had lost most of my social skills during quarantine, but after seeing them again, conversations flowed easily."  Similarly, both Noah West and Anushka Saraf said that they liked seeing all of their friends for the first time in over a year.
All in all, the PSAT was not only a test but a chance to see the new renovations and reunite with friends.  After seeing all the renovations and his friends, Noah West closed the interview by saying that he was stoked out of his mind to return to some semblance of normalcy while still bearing in mind what he's learnt about sanitation over the last year or so.