Sophomore star Joe Rizzo leads Oakton baseball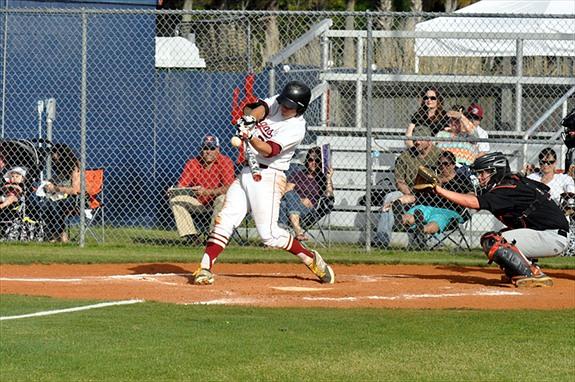 Hang on for a minute...we're trying to find some more stories you might like.
Last spring the Oakton varsity baseball team had a successful season, making it all the way to the semifinal round of the state tournament. The team high batting average was an impressive .450, held by the team's only freshman: Joe Rizzo. This spring Rizzo and the rest of his team hope to follow in the same footsteps and go far into the postseason. Rizzo, now a sophomore, continues to be a vital player for the Cougars. He has an impressive work ethic on the field, and this determination for the sport began long before high school.
"I started playing baseball when I was seven," Rizzo said. "I started off playing little league."
After years of youth leagues, Rizzo started playing on travel teams, like many of his Oakton teammates.
"Right now I'm on the Evoshield Canes, that's my summer team," Rizzo said. "It's just a great experience because we travel to a lot of college showcases and we go to big tournaments down in Georgia and Florida. It's just a great experience."
When tryouts rolled around last spring, Rizzo's goal was to make the varsity team. Not only did he make the team, but he ended up being a leading player.
"I had been working for it [making varsity] for probably three years, I had been thinking about it and it was just really cool to be on the team," Rizzo said. "I didn't know I was going to be starting. I thought I was just going to be sitting for a little bit."
After high school, Rizzo says he definitely plans to continue his baseball career.
"I plan on playing in college. I'm working hard to get there. And hopefully I'm fortunate enough to go past college and play in the MLB or the minors."
Until then, Rizzo has the remainder of his sophomore season and then two more seasons after that with Oakton baseball. He already has colleges looking at him, but for now he enjoys representing his high school.
"Oakton baseball has been a lot of fun," Rizzo said. "It has been a great two seasons so far."
Oakton baseball's last regular season game was on Friday, May 16th and then playoffs began with the first round of the conference tournament on Tuesday, May 20th.