Remembering Nancy Reagan, icon of the '80s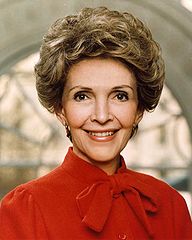 Nancy Davis Reagan, born on July 6, 1921, was an American actress and the wife of the 40th President of the United States, Ronald Reagan. She was the First Lady of the United States from 1981 to 1989.
She was born in New York City. After her parents separated, she lived in Maryland with an aunt and uncle. She then moved to Chicago when her mother remarried and she took the name Davis from her stepfather. As Nancy Davis, she was an actress in the 1940s and 1950s. In 1952, she married Ronald Reagan. They had two children together. Nancy Reagan was the First Lady of California when her husband served as governor from 1967 to 1975.
Nancy Reagan became First Lady of the United States in January 1981, following her husband's victory in the 1980 presidential election. She was criticized early in his first term due to her decision to replace the White House china, despite it being paid for by private donations. She was an advocate for preventing recreational drug use by founding the "Just Say No" drug awareness campaign. Many of Ronald Reagan's decisions as president came from Nancy. She had a strong influence on her husband and played a role in many of his decisions.
The Reagans retired to their home in Bel-Air, Los Angeles, California in 1989. Nancy devoted most of her time to caring for her husband, who was diagnosed with Alzheimer's disease in 1994, until his death in 2004. Nancy remained active in politics, and particularly in support of embryonic stem cell research, until her death in March 2016.