"Digital Detox" is a trend
Our favorite celebrities are unplugging from social media
   In the 1980's, the Internet was born, heavy and bulky, but one of the most influential inventions to grace the earth. Today, with its structures thinning and online users exceeding the 3 billion mark, about 40% of the world's population use the Internet.
   "We are more connected than ever before, but life in the digital age is far from ideal," said digitaldetox.org. Today, we seem to be connecting through social media, and communication has transformed with the help of touch keyboards and photo libraries.
   In 2014, Levi Felix, an advocate for reconnecting with a background on psychology, established an idea that is now world spread. The Digital Detox is a retreat that teaches connections without the pixels and buttons.
   Today, the Internet has caught the eye of people of all ages. From the very beginning, babies grow accustomed to the glowing screen of their device, and by age 3, they learn to maneuver through various applications. Teens are now considered experts of technology.
"
Teens are more connected [than ever before] to each other, to news, to what they care about… So the tech isn't bad, but our dependency may be."
— Ms. Clark
   With social media attached at our hip, we have grown to rely on the benefits of being online. For some, it means accessing the latest news in seconds, and others, staying in touch with relatives. Even adults find themselves using desktop computers and mobile devices for work purposes.
   According to Common Sense Media, 50% of teens feel addicted to their phones. "We could all use a break from social media; perhaps with teens it's more intense. That feeling that if I look away I might miss something," said psychology teacher, Ms. Clark, "but technology also has its positives; teens are more connected [than ever before] to each other, to news, to what they care about… So the tech isn't bad, but our dependency may be." 
   Studies also show that stress in working adults have grown profoundly because they never leave work. Devices, accessible within households as well as offices, are outlets of business. If your work follows you home, when do you have time to kick back and relax?
   Even our biggest celebrities, making at most $550,000 from a single Instagram post or $13,000 from a tweet, need a little break.
   Sam Smith is a British singer-songwriter with his 2014 hit album, In the Lonely Hour. After being awarded 2016's "Oscar's Best Original Song", Smith declared his departure via Twitter.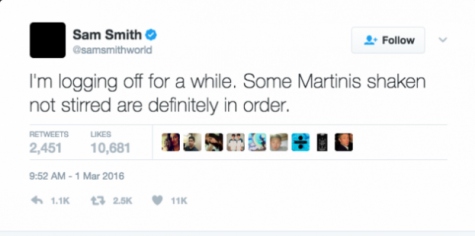 A twitter incident with Dustin Black is thought to have driven Smith away from social media. After being awarded his first Oscar, Smith, choked with joy, dedicated his victory to the LGBT community, saying that he's proud to be 'the first openly gay man to win an Oscar'.
   His proclamation, however, was unfortunately false, when Dustin Lance Black, won an Oscar for his film, Milk. Black, husband of Tom Daley, confronted Smith on Twitter, "Hey @samsmithworld, if you have no idea who I am, it may be time to stop texting my fiancé…" said Black. The tweet included a video of Black's acceptance speech at the 2008 Oscars. Smith soon apologized, and after the incident cleared, he declared his break. 
   This year has been a big one for Selena Gomez, actress and artist. Her hit album brought her on tour around the world. But one can only imagine the strenuosity of back to back performances and rehearsals, meet and greets, interviews, and keeping social media updated with it all. After her tour, Gomez disappeared from all her social media accounts.
   As months passed, magazine covers announced that Gomez had gone into rehab to mend herself back together. Her heartfelt Instagram post after her three month break brought sighs of relief all around.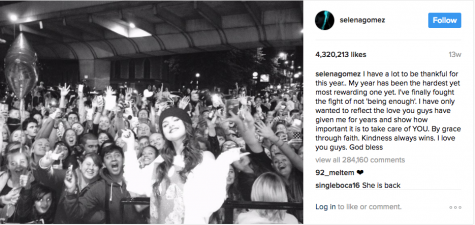 In addition, Kendall Jenner, model and sister of the Kardashian-Jenners, mysteriously vanished from the Instagram grid for a few days. She addressed everyone's concerns on the Ellen Show with a shrug and oblivious smile, "I just wanted a little bit of a break. I'm always on it," said Jenner.
According to Allure Magazine, Jenner claimed that she's sick of seeing her sisters so consumed in their phones and is accompanying her older sister Kim Kardashian on the sidelines, as Kardashian hasn't used much of social media since she was held at gunpoint in Paris.
   Ed Sheeran announced his break after spending 16 months on tour, "I'm taking a break from my phone, emails, and all social media for a while,"  Sheeran wrote, "I've had such an amazing ride over the last 5 years, but I find myself seeing the world through a screen and not my eyes…" said Sheeran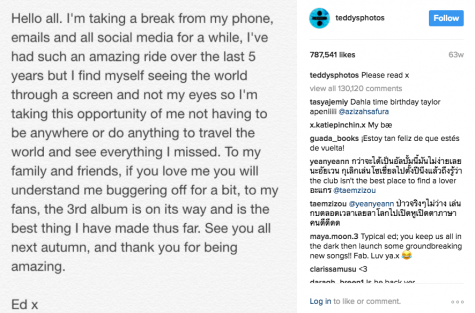 His absence for the past two years was well deserved, but quiet, as Sheeran traveled the world and partied, like any 26 year old should. In fact Sheeran had to extend his break when he had surgery that prevented him from travel. "I had an operation in January on my ear because I stupidly jumped off a yacht really high up and smashed it," he reported to the Daily Telegraph.
   But Sheeran did not disappoint, he returned, better than ever, with an exciting announcement, "I've got a song that's better than Thinking out Loud… I think this year is going to be a high point." Sheeran's 2 year detox brought his new album, Divide, which will be released in March 13, and has his fans eagerly waiting on the edge of their seats.
Last, but not least, the break that brought us all much needed assurance; the Obama's Virgin Islands vacation. After the Trump inauguration, the first couple flew a private jet to their paradise. The Obamas began their layover relaxation in a Palm Springs mansion, an 11,000 square-foot home surrounded by the San Jacinto Mountains.
   The Obamas trade their bronze mountains for a golden beach as they continue their post-presidency vacation in the Virgin Islands. Here, we see our president like we've never before, wearing a backwards baseball cap, shorts, and a lazy smile.
   After two weeks of pure paradise, our former president and first lady are settled back in D.C., ready to continue their lives out of the spotlight. The Obamas are the face of digital detox.