DECA dimes dominate States
Hang on for a minute...we're trying to find some more stories you might like.
  DECA is one of the most popular organizations at Oakton, thriving with students from classes. To be in DECA, one must be in a business-related class at Oakton, like Entrepreneurship or Marketing. Throughout the year, students learn marketing techniques and research plans, all culminating in presentations at the Districts, States, and up to Internationals competition. "The best part of DECA so far this year was being able to compete at the States competition. It was so much fun, and I learned a lot about marketing and business strategies," said freshman Alexis Singer.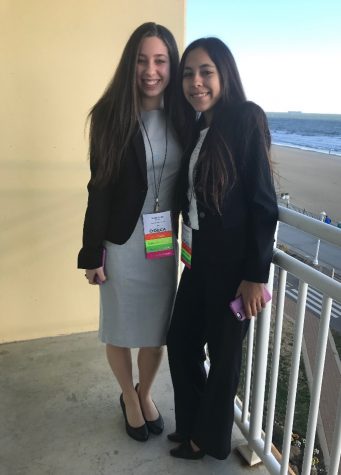 Oakton students competed at DECA States competition in Virginia Beach March 3-5. Participants had the option of doing a Role Play competition or a 30 page paper and presentation during the months prior to States. For Role Plays, students were given a scenarios 10 minutes prior to going in and presenting to the judge. Singer, pictured on the left, was especially excited about her Role Play presentation at States. She participated in the Social Media event, where she was given 10 minutes to prepare a social media promotional plan, and 10 minutes to present her plan to a judge.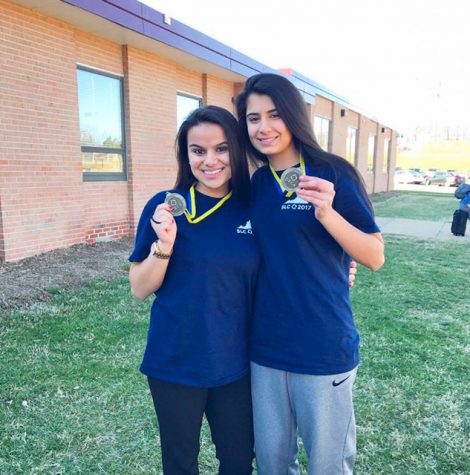 Juniors Sambriddi Pandey and Shazmeena Khattak were a duo that competed in States and qualified for the International competition. They chose to do a 30 page paper for the Sports Entertainment Operations Research Event. The task was to partner with a sports-related business and develop the "SoLoMo," or Social Local Mobile plan, a popular marketing technique. Khattak and Pandey chose to collaborate with Fairfax Racquet Club and Fitness Center, where Khattak plays tennis. These students have been in DECA and Marketing since their freshman year, so they have great experience with the intensity of competing. They spent months successfully developing a new marketing strategy based off of extensive research carried out. At States, their paper was read by a judge beforehand and then they conducted their 15 minute presentation. Khattak and Pandey were judged and ranked based on the quality and success in their paper and presentation, and they finished in the Top Eight, which qualified them for Internationals.
  The students in the Top Eight or Top Nine (depending on event) make it to the International Competition, International Career Development Conference, or ICDC. They are able to compete with 500-600 other people in their category, and the Top Three are the international champions with the possibility of receiving scholarships. ICDC is in Anaheim, California this year on April 26-29. Out of all the schools that participated in States, Oakton was the school with the most students who qualified for Internationals — a total of 56. Oakton accounted for 22% of all total FCPS qualifiers.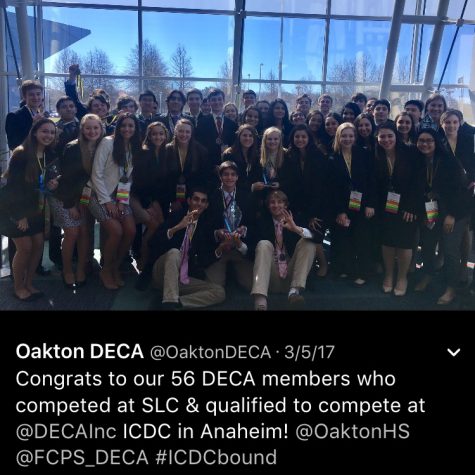 Lauren Hawkins competed in her last States competition this year as she is a senior, and says it was bittersweet. She and her partners Maddie Richey and Sam Gordon were awarded with Second Place in their event Business Operations Research. "Knowing that this year was my last year of DECA motivated my team to do better so States would not be our last competition. We have made so many memories in the past three years that it is hard to think it is almost over. I am thrilled to be able to go to ICDC and compete one last time with my best friends," said Hawkins. Additionally, Singer was so happy that she qualified for ICDC for her first time ever competing in DECA. "It was definitely very stressful because I wanted to do well in my presentation and it was my first time doing it, but it was also very exciting," said Singer. Overall, DECA was a huge success for students and the Oakton community.