Ryan's story
Lessons learned from an emotional assembly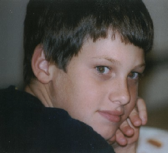 Hang on for a minute...we're trying to find some more stories you might like.
As students exited the auditorium on Thursday morning, the atmosphere was heavy. Students weren't laughing and joking as usual. Instead, they were serious, contemplating the message they had just heard. The story of Ryan Halligan is certainly one that provokes deeper thought.
John Halligan came to Oakton to share with everyone the story of what happened to his son, Ryan. Halligan began his presentation by introducing Ryan through a picture slideshow of his son at different stages in his life. Throughout the presentation, in addition to explaining the reasons why Ryan committed suicide, Halligan mentioned what can be done to help others struggling with the same issues.
One issue that Halligan has found with the way people try to understand suicides is by only including one or two reasons for the death, and trying to understand all the components in two minutes or less. "It's hard for me to watch the nightly news, because they only spend a couple of seconds covering part of the story when there is really so much surrounding the circumstances," Halligan said. Truly understanding the story requires more time. Even with spending a whole class period, 90 minutes did not seem like enough time to truly comprehend the story that Halligan shared with the Oakton community. By trying to rush through the stories of suicides, like in the quick news recaps, people are not able to really understand what happened.
Bullying did play a large role in what happened to Ryan, and Halligan mentioned wishing for a time machine multiple times throughout the presentation to go back and change how he helped out Ryan. Ryan's bully had been picking on him since 5th grade, and continued to bully him at school and around town until the 7th grade, when they had a physical fight. Even though after the fight, Ryan believed the bully and him had become friends, it was not a good relationship. After sharing too much personal information with the bully, a false rumor was spread that Ryan was gay.
This lead to Ryan spending most of his time during the summer of 2003 online, trying to convince his peers that the rumor wasn't true. As his parents later found out, he was also making a connection with one of the "cool, popular, and pretty" girls at school, so going into 8th grade he could show everyone his girlfriend. Looking back, Halligan remarks that he should have noticed this change in behavior as one of the symptoms of depression. Over the summer, instead of spending time outdoors or playing sports with friends, Ryan spent more time inside his bedroom with a closed door. Ryan and his father had a tradition of going camping at the end of the summer, but the summer of 2003 Ryan backed out of the trip, saying he wasn't up to it.  
Ryan started out 8th grade, hopeful that after spending the entire summer online he would experience less bullying at school. However, after talking to the girl, Ashley, who he had been communicating with the entire summer in front of her friends, he was crushed. Instead of the positive relationship he had been led to believe that they had, Ashley had been sending their private messages to all her friends and mocking their friendship. Following this, Ryan told Ashley, "It's girls like you who make me want to kill myself." The next day, Ryan was found dead by his sister in their house. Ryan had committed suicide at the age of 13.
Following Ryan's death, his family was left with a lot of questions. There was no suicide note, and right after the death his parents knew nothing of the suicide nor of Ryan's mental health issues. However, Halligan eventually logged onto Ryan's AOL account and found a complete record of Ryan's conversations. Halligan thought a lot about Ryan, especially in his final months, and realized that Ryan had exhibited many signs of depression, caused by a buildup of many incidents over time, not just the incident with Ashley.  This is why Halligan was able to reach out to and communicate with the girl Ryan had been talking to online, Ashley, and tell her that Ryan's death was not entirely her fault. "When we met up, I just told her, 'You did a bad thing, but you are not a bad person.'", said Halligan. It was important for Halligan to reach out to her to tell her not to blame herself, because Ryan's death hit her hard, and she didn't go to school for weeks after Ryan's suicide.
One of the saddest aspects of this story is that Ryan is far from the only one to have dealt with these trials. In fact, cyberbullying continues to be on the rise. Speaking about the internet, Halligan explained that the problem now is that "we've invented all of these new applications and new gadgets, and it's made this opportunity to be awful to each other even more so than it was."  Now, conflict among students has two dimensions: in person and online. Internet usage and social media networks have expanded to a point where it is ubiquitous, and bullying at school doesn't necessarily end when students get home. Young people now have a dependance on social media and the internet that enables cyber bullying to become a more frequent issue. The disconnect between the bully and the victim on the internet makes it more difficult for the bully and others to realize the impact on the victim. It's much harder to be horrible to someone's face than it is to be horrible to a computer screen.
One of the biggest factors in Ryan's story was the bystanders at Ryan's school. Ryan had consistently been bullied since the fifth grade, and no one had the courage to stand up to the bully. Halligan wanted to stress the importance of standing up to bullies at the assembly. "They have the tremendous responsibility to shut [bullying] down as quick as it starts," said Halligan, "because they have a lot more in numbers than those doing the bullying." One person who says something to a bully could make the biggest difference in the lives of the victim and his or her family. Ultimately, Halligan hopes to reach three groups of people with his high school talks: the Ryans, the bullies, and the bystanders. Halligan said, "I pray to God that [those feeling suicidal] got the message that they are loved, and that they also see the pain that their families would go through if they did what Ryan did." While bullying played a significant role in Ryan's decision to kill himself, his father believes that Ryan was also suffering from depression. Bullying is not the only cause of depression, and Halligan believes that if someone had noticed how Ryan was feeling, they could have gotten help for him. Most parents and students don't know what the signs of depression are, which means that a mental health issue can go undetected until it is too late and the person wants to take their life. Halligan has created a website with Ryan's story called ryanpatrickhalligan.org where he lists out many different signs of depression and suicidal behavior.
Finally, Halligan wanted to touch the bullies in the audience. "I truly believe that if it's from the heart, an apology can go a very long way," said Halligan. He doesn't wish to ostracize bullies from society, but wants them to be forgiven if they truly feel sorry. This is a powerful message of forgiveness, especially from someone whose life has been so impacted so deeply by bullying.
Ryan's story is one that we should all remember. Sitting in the auditorium and listening to Halligan isn't enough. As students at Oakton, we need to be willing to take an active stance against bullying. Also, Ryan's story also teaches all of us the importance of helping people out who may be suffering from depression. Instead of being judgemental towards those who may act differently, or who may have a certain reputation, we need to be more accepting towards all.

Loading ...