"Falling" into a Series of Productions with Oakton Theatre
Hang on for a minute...we're trying to find some more stories you might like.
Now that Much Ado About Nothing has wrapped up from last weekend, Nov. 9th through Nov. 11th, the talented students of Oakton Theatre have moved on to working on two more productions: Almost, Maine and Orphie & the Book of Heroes.
Almost, Maine will be shown from Nov. 16th through 18th in the Oakton High School Auditorium. This romantic comedy is set in a mythical, small town called Almost, Maine, and it is a recounting of stories from one day in the middle of winter. It consists of eight short scenes about love, like breaking up, getting back together, and falling in and out of love. The lovely thing about Almost, Maine is that because it is several little scenes, all of the characters have about the same amount of time on stage, and therefore it is one of the most produced shows in high schools ever. Every character is equally important! "Every scene has a bit of magic realism in it — there's surprises, there's twists, and there's references to each other — it's all just really fun," said Finlay Kuester, stage director for both Almost, Maine and Orphie.
Theatre students have been working on these three shows since the beginning of the school year, and they specifically decided to aim Almost, Maine more toward older, young adult audiences because of the maturity necessary throughout the romances. One thing to look forward to during this production will be the feeling of actually being in Maine, as the Theatre Technology students are going to make the theatre really cold and produce fake snow on stage. It will be roughly 60 degrees in the theatre, so viewers should make sure to bring blankets and wear warm layers! Additionally, the staff and volunteers are planning to sell hot chocolate during the intermission, a great way to warm up and enjoy a nice wintry treat.
Oakton Theatre decided to leave Orphie & the Book of Heroes for last because it is musical and compiling and rehearsing the music components takes longer, so this production will be shown on Dec. 1st and 2nd. Orphie is based on greek mythology, with the story of a little orphan girl who is the adopted child of Homer. He is taken by Hades, the god of the underworld, and Orphie makes it her goal to try to save her beloved Homer. Although she tries to get help from several other gods and heroes (Zeus, Pegasus, the Sirens, etc.), she mainly discovers herself as a hero, as she travels from Mount Olympus to the underworld. This will be a wonderful musical for all ages, especially young children. "Orphie is an uplifting, female empowerment story with interesting greek mythology and great music, and we are so excited to see it produced on stage," said Anna Goodin, director of Much Ado About Nothing. Interestingly, freshmen students who are reading the Odyssey this year will especially be able to understand this musical and to connect to the greek mythology embedded in the plot. Orphie will be played by Carolyn Best (11), Homer will be played by Parker Watters (12), and Hades will be played by Liam Klopfenstein (12).
"The cast is so amazingly talented for both shows and literally everyone should come see both of them every night!", said Finlay Kuester.

About the Writer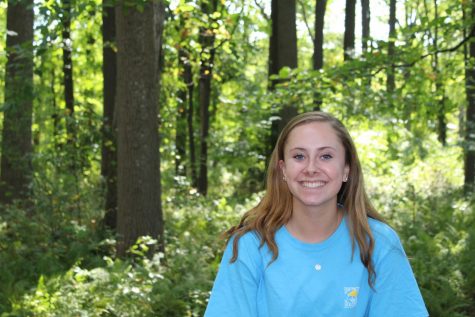 Jessica Marshall, Editor-in-Chief
Hi, my name is Jessica Marshall, and I am a senior at Oakton High School. I am so excited to be Editor-in-Chief for the Oakton Outlook this year and lead a successful publication. I have previously served as a staff writer and the Arts and Entertainment Editor for the Outlook. My favorite subjects in school are Spanish and Biology, as I hope to study nursing and kinesiology in college and pursue a career in either physical therapy or nursing. Outside of school, I dance for the Ballet Arts Ensemble of Fairfax, with jazz, tap, and modern dance on the side. My favorite quote is, "If you don't take risks, you'll have a wasted soul." This will be a fantastic year for the Outlook, and I can't wait to see what the future holds.