Album Releases: November 2017
Some of the most anticipated new music coming out this month.
Whether you listen to pop, country, or holiday music, there's something new coming for you this November! A wide range of singers and songwriters have albums slated to be released this month.
One of the most anticipated releases this November was The Thrill of it All by Sam Smith. It has everything a Sam Smith fan could want: his signature soulful, melancholy, and emotional pop music. "Palace" is Smith in peak form, with bittersweet lyrics ("Sometimes I wish we never built this palace/But real love is never a waste of time") and slow strumming of the guitar in the background. "One Last Song" is another standout, showcasing the singer's impressive vocal range with a more upbeat tune.
For the country fans out there, Billy Ray Cyrus came out with a new album on November 10th. Set the Record Straight is unique in that it mixes new songs and old Cyrus classics. It has not one but three versions of his hit "Achy Breaky Heart", including a spanglish version. The collection even features a collaboration with his famous daughter, Miley Cyrus, in the form of a feel-good track entitled "Stand". "Meant to Be" is a sweet song that sounds like calming country background music, while his version of the classic "Tulsa Time" featuring Derek Jones and his daughter Noah Cyrus has the twist of an electronic beat.
It's also that time of year again for holiday albums to come out! Surprisingly, Sia is one of the firsts to take the holiday route this season. Sia's Every Day is Christmas album will be released on November 17th. Although I was admittedly skeptical about the album, it won me over. It's not filled with the typical "Jingle Bells" or "Last Christmas" that are so often done. Instead, she croons originals like "Ho Ho Ho" and "Puppies are Forever". The lead single, "Santa's Coming for Us", is the perfect modern Christmas song. It's fast and upbeat, with just enough of that holiday feeling. The seconds single from the album, "Snowman", goes in a completely different direction. It's slower and more emotional, but still heartwarming holiday fare in the end.
No matter what your musical tastes are, one of the many albums released this November is sure to please you.
About the Writer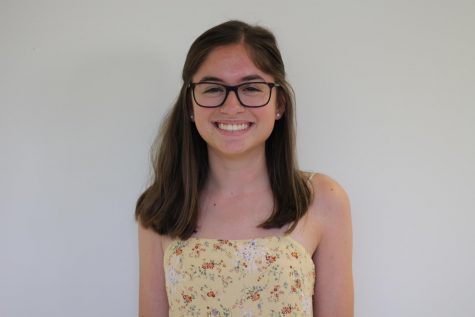 Olivia Garrone, Editorial Board
Hi! My name is Olivia Garrone,  I'm a senior and a member of the Oakton Outlook Editorial Board. I love writing A&E articles and features on the Oakton...