Taylor Swift's new reputation
A review of Taylor Swift's newest album
Hang on for a minute...we're trying to find some more stories you might like.
Taylor Swift's sixth studio album, reputation was released last on Friday, November 11 after months of calculated and mysterious promotion by Swift's team. It all began in August when Taylor deleted all of her social media posts, and replaced them with creepy images and gifs of snakes in what many believed to be a reference to her infamous feud with Kanye and Kim Kardashian West. Since then, Taylor's social media and presence in the general media has been secretive and carefully calculated. She's been dropping singles and videos at midnight without warning, and remaining out of sight of the public eye. Now with reputation released, she's made appearances on SNL to perform some of her new songs, and her album has already sold 925,000 copies. Taylor hasn't made reputation available on any streaming platforms yet, so if you want to listen to any songs other than the singles, you'll have to buy the full album.
In general, I was pleasantly surprised by the album. Based off of the singles, I was not convinced that the New Taylor was in fact an improvement of the Old Taylor. However, Swift manages to maintain favorite elements of her old self (catchy choruses and breathy lyrics) while updating her sound with more bass and hip-hop electronic beats. So Old Taylor is still alive, and you can see her in songs like Getaway Car and the chorus of …Ready For It. Taylor has also tried to update some of her songwriting, including some more blatant references to feuds (like in the Kimye diss track Look What You Made Me Do and This Is Why We Can't Have Nice Things). However the trademark of Taylor Swift's albums remains her love and breakup songs, which can be found in abundance on reputation. The most interesting thing about the whole album is how it claims to be above media drama, while playing right into it with a healthy share of  headline-ready lyrics. However, while that may seem a bit immature, it's also one of reputation's strongest suits. It's entertaining, and as I listened to the album, her changes sounded more like bravery than immaturity.
Overall, I like the album. Some songs fall flat, but the overall album is classic Taylor with a bit of a twist. I also respect her ability to change and adapt to various genres so quickly and so well, so I would recommend this album to old and new Taylor fans alike.

The Most Memorable songs, ranked
1. Getaway Car
This is a great song. Well written, super catchy, and more Old Taylor than New Taylor combines for a cohesive and beautiful song (that is reportedly all about Tom Hiddleston).
Best Lyric: And a circus ain't a love story/ And now we're both sorry
2. Call It What You Want
This is a vary classic and sweet song, about personal growth and being in love. It's very empowering, and I love this song! It is very reminiscent of the songs from 1984, and it works well.
Best Lyric: Nobody's heard from me for months/I'm doing better than I ever was
3. End Game (feat. Ed Sheeran and Future)
Again, this song is super catchy, and the features from both Ed Sheeran and Future add a little extra to this hip-hoppy track.
Best Lyric: I swear I don't love the drama it loves me
4. I Did Something Bad
I Did Something Bad is an example of one of Taylor's experimental successes. The hip-hop sound is consistent throughout and remains one of the catchiest and best songs on the album.
Best Lyric: They're burning all the witches even if you aren't one/ so go ahead and light me up.
5. Delicate
This song is a great blend of Taylor's tried and true dreamy and breathy lyrics and her updated hip-hop sound. It perfectly captures the uncertainty of a new relationship ("Is it cool that I said all that?")  while staying wonderfully catchy.
Best Lyric: My reputation's never been worse, so he must like me for me
6. New Year's Day
New Year's Day is a sweet song about staying by the side of someone you're close to. It's the only song on the album that's "acoustic", as it is completely played on the piano. It's generally a sweet song, but nothing is super special about it.
Best Lyric: Hold on to the memories they will hold on to you
7. …Ready For It?
…Ready For It? just seems like one of the most forced songs on the album. It's chorus is extremely disjointed, and Taylor's rapping verses fall a bit flat.
Best Lyric: You can be my jailor/Burton to this Taylor
8. Gorgeous
Taylor has confirmed to some fans that this song is about her current boyfriend Joe Alwyn.
And while no one can deny that he is gorgeous, I'm not crazy about the song.
Best Lyric: No standouts
9. This Is Why We Can't Have Nice Things
This is the classic Kimye diss track, and while it's easy to dismiss this song as immature, it's super catchy, and actually kind of funny. It's worth listening to just to hear Swift's cackle in the "most memorable lyric".
Most Memorable Lyric: And here's to you/'Cause forgiveness is a nice thing to do/Haha, I can't even say it with a straight face
10. Look What You Made Me Do
We've all heard this song. Hopefully you haven't had to listen to  it more than once.  Look What You Made Me Do perfectly illustrates Taylor's ability to pick the worst songs off the album for her singles. The weird "rap" chorus and generally poor songwriting puts this song way down on my list.
Best Lyric: NONE
Songs not memorable enough to rank (all are better than Look What You Made Me Do though)
Dancing With Our Hands Tied
Dress
King of My Heart
So It Goes…
Don't Blame Me

About the Writer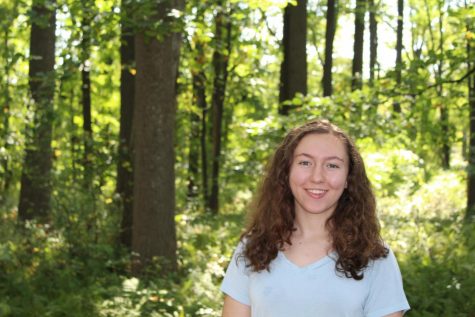 Katie Thompson, Editorial Board Member
Hi, I'm Katie Thompson. I've  been a member of the Outlook for four years, and I am  currently a member of the editorial board. I am most interested in writing stories involving politics and international news. At Oakton, I am also a member of the varsity girls' volleyball team and the Physics Club. I also enjoy reading, and am a map and geography enthusiast.