AP European History: A Look into the Past and Present
Hang on for a minute...we're trying to find some more stories you might like.
With course selection days quickly approaching, it's time to start planning out the classes and electives you may want to take next year. It is important to take into account course rigor, with a range of honors and AP classes, and with one to two electives to add into the mix. When deciding which to take, consider AP European History, taught by Mr. William Tiller. For the first time at Oakton, AP European History was offered as a course this year, and its success has not gone unnoticed. The Advanced Placement program offers three history level classes: AP World History, AP United States History, and AP European History, and Tiller decided that it was time Oakton added the third AP level history course to give our bright students the full complement of AP. Fit for any junior or senior, AP European History (AP Euro for short) does not require any prerequisites, but taking AP World History as a sophomore is definitely a bonus because students will be more easily adjusted to learning about history in other countries at a more advanced level. One of the great things about AP Euro is that students are never learning brand new information — they will just be going way more in-depth on topics that they have already been introduced to in World History as freshmen and sophomores. 
"
I decided to take this class because I love history and I wanted to go more in-depth learning about Europe."
— Nika Sauger (12)
Taught like a college-level class, AP Euro requires students to read the textbook outside of school (usually about two to three chapters per unit), then assessing their knowledge by taking the occasional reading/vocabulary quizzes and unit exams. Some classes may be lecture-based to get the material out there, but many classes periods consist of fun and engaging interactive activities. For example, one class period, students drew maps (step-by-step) of places in England changing from villages to cities during the period of the Industrial Revolution, which were used to show how agrarian life was dominated by industrialization in a span of about 100 years. Additionally, every unit, students continue to add on to their electronic timeline of European events. Tiller also assigns open-ended projects once a quarter, known as "do it yourself projects", which are great creative ways to show interesting connections. The first quarter project was to take any event that happened during the Protestant Reformation in Europe, and show how it has somehow impacted our lives today, and how to do that is totally up for interpretation by each student. They are given a month to complete these projects, and so far this year Tiller has seen students create songs, plays, and even rap videos. 
Tiller took many European History classes in college and loved what he was learning, and this prior knowledge has definitely helped him teach this class at a higher level for high school students. Last spring, he made a presentation and spoke at a faculty meeting, and fortunately everyone voted to start the class at Oakton. At the beginning, there was a waitlist for students to get into the class, and now there is one class period that is completely full. 

Loading ...
"It's just a miracle to see how things come together throughout time… The connections you make between what had to have happened one day to create what happened today is fascinating", said Tiller. So much of what America is as a country comes from European history — we are so closely tied together which is what makes the study so interesting. Taking this enriching course will allow students to broaden their perspectives on events both in the past and the present, while engaging in daily interactive activities and thought-provoking discussions. "This is a class where we try to make sense of what happened today by looking at yesterday", said Tiller. Focusing on causes and effects rather than memorization brings students to have wonderful 'a-ha!' moments, and make valuable connections to today's society. 

About the Writer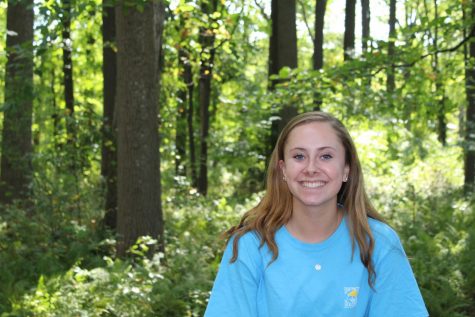 Jessica Marshall, Editor-in-Chief
Hi, my name is Jessica Marshall, and I am a senior at Oakton High School. I am so excited to be Editor-in-Chief for the Oakton Outlook this year and lead...