'thank u, next' Album Review
How Ariana Grande's latest album is breaking records
Ariana Grande's new album "thank u, next"  immediately catapulted to the top of the charts. In fact, it made her the first artist since the Beatles to have her songs as number 1, 2, and 3 simultaneously on the Billboard top charts. The album created a lot of buzz for a reason; the bold singles and music videos (such as the title single, "thank u, next") made a splash before the album even came out. The album itself lived up to the hype; it was her most unique one yet, with unexpected song sampling (like the snippet from The Sound of Music in "7 rings"), her signature impressive vocal range, and catchy hooks.
The immense popularity of thank u, next is widely credited to its first single, "thank u, next" itself, a song with a captivating beat in which Grande controversially named four ex-boyfriends. The iconic music video made an even bigger splash, as it featured nods to popular early 2000s teen movies, most notable, Mean Girls. Her momentum continued with another single, "7 rings", which took on a more hip-hop tone different from anything Grande had done before. The singles set the stage for the songs to come.
"I liked it better than her previous albums. It showed a more personal, vulnerable side of her," said Nikita Poudel (11). This vulnerability was shown through the lyrics of many of her songs. After a rough year, with the death of an ex and a broken engagement, Grande had a lot to sing. "imagine" and "ghostin" are both touching ballads eluding to love lost, beautiful and haunting at the same time. Not only is the beat of "ghostin" eerie, but the lyrics ("I know you hear me when I cry/I try to hold it in the night") will stay with you long past the last notes.
In being so brutally honest in this album, Grande made herself more relatable than ever before. Her song "needy" connects with listeners all over, because everyone doubts themselves. In the song, she brings up her insecurities ("Sorry if I'm up and down a lot/Sorry that I think I'm not enough/Sorry if I say sorry way too much"), showing her fans that she, too, is human, has doubts, and needs validation sometimes.
Some of the other memorable tracks have a more upbeat sound. "break up with your girlfriend, i'm bored" will be stuck in everyone's heads soon enough, if it isn't already. Every part of the song has a distinct and catchy melody, one of which was sampled from an old *NSYNC song, "It Makes Me Ill". This isn't the first time Grande has taken inspiration from other musicians in her songs; her Sweetener track "goodnight n go" is a revamp of the 2005 song by Imogen Heap. These songs show that Grande has vast respect for her predecessors, and were nice surprises for fans of the originals. "bloodline" was another lighter standout, with lyrics such as "Just wanna have a good time, yuh" in the chorus and a singalong-friendly refrain.
thank u, next deserves all of the recognition it is getting on the billboard top charts. Not only is it filled with catchy tunes and dynamic music videos, but it dives deeper into Grande's personal life than any album in her past, connecting with listeners all over the world.
About the Writer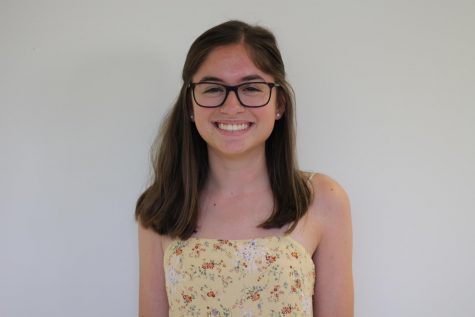 Olivia Garrone, Editorial Board
Hi! My name is Olivia Garrone,  I'm a senior and a member of the Oakton Outlook Editorial Board. I love writing A&E articles and features on the Oakton...