Kenan Murray interview
Hang on for a minute...we're trying to find some more stories you might like.
Background
Kenan Murray is a senior at Oakton high school and a photographer. He started freshman year and shot both film and digital. His portfolio got featured among 8 other students at Oakton High School in the Virginia Art Education Association magazine, the winter edition. He was also featured in the silver and gold key in the Oakton Scholastic Art and Writing awards 2019.
Message of work
His work in the VAEA magazine was in response to the self portrait prompt "reflection." The work aims to explore duality and self image. It is important for one to become who they are instead of creating an image of who they are. Instead of striving to create an identity and getting it noticed, one should instead be interested in the life itself.
Biggest Influences
His biggest influences for this picture came from focusing on the technical aspects of self portraiture and trying to keep a reflection without extraneous background objects.
Current art trends following
There is a growing trend of surrealism or ethereal ism in portrait photography, and his editing techniques in this image were a somewhat darker take on those popular styles.
Art change over time
Murray's style as an artist has changed a lot over the past several years. "I used to focus on large natural landscapes, but now I focus largely on smaller natural features and spend much more time in macro photography and shooting with a huge emphasis on the technical aspects of photography," he said.
Research while working on portfolio
He claimed he didn't really do any research for this piece, but had to experiment with angles and trying to shoot a self portrait without it appearing unplanned or like a selfie.
Expectations
"I didn't expect work to be featured in the magazine, and I only submitted the one work because Mrs. Silva encouraged us all to at least try and submit some work," he said. Murray claimed to have been working on that image for another class assignment so he just emailed it to the magazine just to see what would happen.
Goal as an artist
His goal as an artist is to keep a viewer engaged and make them think. The average time spent looking at a piece of art in a museum is 3 or 5 seconds or something, and so keeping attention and focus is something he aspires to be able to do.
Source of inspiration
He gets most of his inspiration from observations and things he sees or notices. "The reflection idea arose from trying to clean a mirror in my basement, and my AP Portfolio is focusing a lot on the minutia in nature and drawing a focus into the small things."
Advice to your younger self
If he could advise his younger self, he would remind himself that artist's block is a natural thing and that it will always fade. "I used to get really frustrated and irritated when I was uninspired, so I would encourage my younger self to work through things and keep pushing forward."
Best thing about being an artist
In a nutshell, he claimed that the best part of being an artist is seeing and having a deeper appreciation for other works of art." I used to get bored in art museums when I couldn't understand what I was seeing or how something was made, but being an artist and living in that world has really opened my eyes to the processes and made art so much more interesting."

About the Writer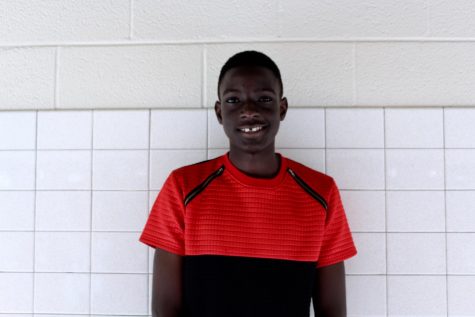 Sebastian Osea, Staff Writer
A thinker. Passion for soccer and art.