The Black Hole
Hang on for a minute...we're trying to find some more stories you might like.
On April 10th, astronomers announced that they were able to capture a picture of a black hole. A black hole is a body with intense gravity where nothing can escape it, not even light. Thus, capturing an image of the hole was of extreme difficulty and one of the biggest discoveries of the decade.
For many, the idea of a black hole was imaginary and seemed unreal. However, when the image of the black hole was announced Wednesday morning, everything became a reality. More than 200 researchers were involved in the project. Furthermore, more than $28 million was spent on this project in the last two decades. According to the Astrophysical Journal Letters, "the black hole resides 55 million light-years from Earth and has a mass 6.5-billion times that of the Sun." The image of the black hole also confirmed Einstein's theory about how mass can be compressed.
In trying to capture an image of the black hole, astronomers found that no single telescope was powerful enough to retrieve an image or get close to it. Thus, Sheperd Doeleman, apart of the Harvard-Smithsonian Centre for Astrophysics, worked with others to link eight telescopes to form the Event Horizon Telescope. The information this grand telescope gathered was too much to be sent to a single device or across the internet. So, the astronomers had to distribute the data across hundreds of hard drives and send them to central processing centers in Boston and Germany.
This discovery has led scientists to finally have a starting point in answering the questions many have had for decades, including: what happens to an object when it goes in the black hole? The discovery has led to many technology advancements and further power in the scientists' knowledge and capabilities.
About the Writer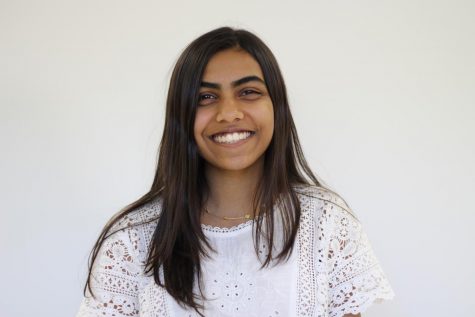 Riya Jain, Editorial Board
Hi! My name is Riya Jain, and I am a senior and member of the Oakton Outlook Editorial Board. I love to write features and showcase students' talents...