Who let Cruella out?
Anticipating a take on One Hundred and One Dalmatians when live-action movies may be losing their appeal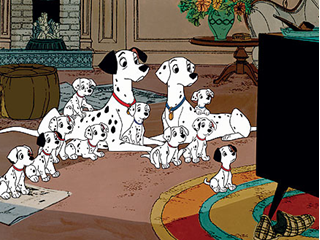 In the context of its long and rich history of films, it seems that Disney has been obsessed with making live-action movies, lately. These movies essentially reuse characters and storylines from animated classics, often with a twist, and give concepts new life with dazzling scenery.
Fans of these types of movies can rejoice: spun off of One Hundred and One Dalmatians, Disney's Cruella will be released on May 28th. It's a live-action film centered around the notorious designer character Cruella de Vil, but from the looks of the trailer, it's not a typical Disney movie laced with positive messaging. Played by Emma Stone, Cruella de Vil graces London with a strong, villainous sense of her identity and ambition, causing a stir in an unusually eerie, sultry, and calculated manner.
For many people, Cruella may be the first Disney movie experienced on the big screen in quite some time. It's supposed to come to movie theaters, not Disney+, unlike recent releases such as Mulan and Soul. Perhaps Disney anticipates a grand debut and resounding response given that original plans put the film in theaters last year, yet Disney has not compromised it to a Disney+ release, at least as of now.
Releasing Cruella could seem like a slightly risky move for Disney. It could be scary for young kids and cause parents to deter, especially if they are also concerned about entering a theater and risking coronavirus exposure. Cruella de Vil bears a resemblance to Harley Quinn, if that gives any indication.
On the other hand, the movie may have a greater appeal to older audiences. As Sydney Chen (12) says, "I am excited for this one because it seems like it will be similar to Maleficent where it's the villain's take on a story. Also from what I saw in the trailers there are new plot elements and characters that we were not introduced to in the original movies." Chen confirms, "I will definitely want to see this one especially because I think Cruella is one of Disney's underrated villains."
Regardless of who comes to see Cruella, live-action films have proved to bring risk in and of themselves, largely because of their similarities to original movies. Some fare exceptionally well, while others fall flat. For instance, Beauty and the Beast and Aladdin seemed to create a lot of positive buzz, while The Lion King and Dumbo didn't seem as universally enjoyed.
This leads one to wonder if live-action movies are getting old, lacking the shiny, exciting mystique that makes Disney movies become loved in the first place. As Chen explains, "I think that if the live-action adds something to the original story (like how in Maleficent we learned more about the villain and her motivations behind her curse) then the live-action is very welcome. If it's literally just a live-action version of a classic movie… then I'd rather Disney save the time and resources on making more original movies." She also points out that live-action movies can have a negative impact, beyond being unnecessary. "Speaking of the classic movie, sometimes it's better to leave those moments alone and not try to recreate the magic."
Hopefully, with Cruella being more of a side-story or prequel of a classic than a remake, it will bring suspense, exhilaration, and enthusiasm, leaving Disney fans with a film that is satisfying and fantastic in its own right.
Sources: The Verge, Disney+, Screen Rant, CBC.ca