The New Normal
How Oakton students feel about the vaccine and mask mandate
After a year of completely virtual school, students have been living out their "normal" school lives for the past month. Everyone has attempted to readjust to full days in person with class after class and a more strict curriculum, however, some changes have been harder to adjust to than others. With the reopening of schools during the midst of a pandemic, many safety protocols were put into place to reduce the spread of Covid. One of the most notable is the mask mandate, but after a recent board meeting, there has also been a vaccine mandate put in place for all Oakton High School winter athletes. 
Many students have mixed feelings about the mask mandate, however, most students understand that it's for the greater good. Mikayla Feldman (12) explains that "It makes [her] feel safer because some people are not vaccinated and COVID spreads quicker without masks," however, for other students like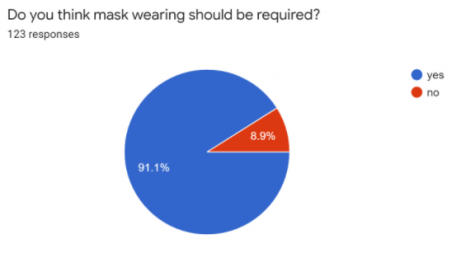 Carmella Wheeler (12), who agree that the mask mandate should be in place, "[it] sucks." Other students like Ryan Shaw (10) explain it as "a necessary evil." Given these "necessary evil" circumstances, some students have begun to see the good in wearing masks. Alicia Ernst (11)  explains that she "like[s] wearing masks because it makes me feel safer from any germs and it also allows me to talk to myself and yawn without being embarrassed." Even still, there are students like Ashley Xie (9) who disagree with the mask mandate because "it's annoying," and "most people are vaccinated." Overall, most students agree that the mask mandate is necessary, regardless of how annoying it might be.
While the mask mandate has been tolerable for everyone, a source of controversy in schools and the nation is the vaccine mandate. Though the country is not mandated to get the vaccine, several businesses and institutions are requiring that their employees receive the vaccine and now Oakton High School is doing the same with its winter sports athletes. Even fewer Oakton students agree with the vaccine mandate, and Michelle Kwak (11) explains that
"there are certain vaccines that are required once one hits a certain age, however; this vaccine is still so new and some people have chosen not to take it. Although I don't think it should be forced, I do recommend that people should get it."
However, Kwak also understands that "playing sports with masks on is very difficult so vaccines are that much more important for students nearby not wearing masks." Sherry Zh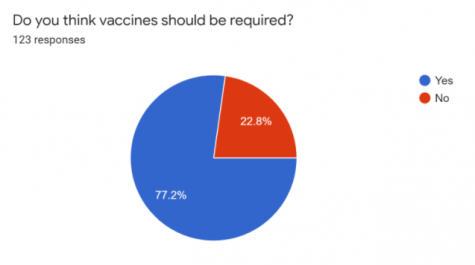 ang (10) shares this viewpoint and describes that she "think[s] everyone should have the right to choose whether they want the vaccine or not," and additionally that "[she doesn't] think people should be excluded from sports because they are unvaccinated." Other students like Natasha Sanghvi (11) believe that the vaccine should be mandated, stating that "there are other vaccines required for school that prevent us or anyone else from getting that disease, and since COVID has a chance of harming us, we should all be vaccinated to protect both ourselves and others." Nonetheless, vaccines and mask-wearing at Oakton, as well as the rest of the country, remains a controversial issue.