The Spirit of Summer Style: Crisp City Coastline to Stunning Seashore Suave
light up an endless summer from sun-up to sun-down in these prime fashion trends
As summer approaches with the final days of the school year, students can almost taste the bittersweet lust of freedom. Imagine the pearly glow in the sky dotted with white clouds while they drift lazily in the gentle breeze. Another day dawns, bringing a cusp of new hopes and aspirations. For many, this may be the goal of studying from dusk till daybreak to achieve the perfect SAT score. However, those who have a life strive to compile their dream wardrobe to rock on time-out with gals. It is truly the hours spent dressing up and celebrating moments together with loved ones that are cherished in memory forever. However, this raises the question of what are the hottest trends rising from 2022? On the agenda is a mixtape of comfort chic and polished posh, with the promise that every type of student will fall in love with a piece. That's only the beginning; though-continue ahead for the full breakdown of a summer daydream.
Great Sport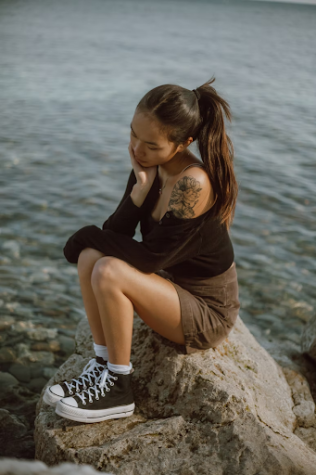 A true palate-cleanser, the high sport fad has washed away activewear sets and lounge co-ords of the past pandemic era. In the year of 2020, Alo Yoga and Lululemon lit up the stage but grew threadbare with overuse. Consider reviving the activewear line-up by going down the "great sport" route. For this refresh, substitute skin-tight cropped tops and lucid jersey jackets drifting in the breeze. This new sense of athleisure and movement is centered around modernity in sports-core. Adopt pieces that flourish in fashion but include functional elements like four-way stretch, seamless silhouettes, and compression fabrics. Combine a sculpted zip-up top, pleated drawstring tennis skirt, cashmere-lined bomber jacket, and high-top basketball sneaker to stroll in from dawn until the brink of midnight.
Cut-Out Craze
Dating back to 2004 with Regina George, the two holed tank-top sabotage and its brazen ridiculousness were part of its appeal. Spreading like wildfire, the designers and clienteles of 2022 embrace the apparel's unabashed boldness. Serving as the epitome of extreme cut-out fashion, it highlights geometric neckline details, shoulder-skin designs, and asymmetrical midriff slashes. While certain designs boasted maximal holes and netting techniques, this particular trend is unrivaled alone under the spotlight. In the form of light, ribbed knitwear, and faded cotton tanks, cut-outs blend effortlessly into the seasonal wardrobe on a number of occasions. Feeling the sensation of rays of sun shimmering across slivers of skin left bare, this style celebrates all curves and figures. Pair a keyhole window knit cardigan alongside a light wash denim micro mini skirt and black loafers laced with gold detail.
Micro Mini
Speaking in terms of scandalous ferocity in luxury, Miu Miu's micro mini skirt featuring a khaki fabric and pleated details became an internet sensation overnight. Impeccably thin strips of denim, khaki, and pleated fabrics are combined to form the latest Y2K fever dream to experience a sartorial revival. It is almost as if low-rise denim and schoolgirl skirts promoted by Paris Hilton join forces to blossom into a hybrid. In popularity, it is evident that this transient silhouette will strut through the glowing city lights in regard to the rising temperatures seen thus far. Similar to the runway, a cropped white button-down and navy sweater over the top is a perfect match for the mini skirt held up by a cinching leather belt.
Chic Crochet
Popularly noticed and raved in publicity, the knitwear trend spreads a burst of wholesome sunshine through the summer months. By doling out scores of hole-heavy, lightweight sweaters, the peek-a-boo appearance of skin makes crochet perfect for layering. Rather than concealing, this allows space to showcase the piece lingering underneath. In addition to the functional athleisure style, overlap this trend on a high-sport camisole tank and wide-leg linen cargo pants for a lightweight feel. Radiate energy on a beach picnic with loved ones through simply throwing a distressed open-knit cover-up to wrap against the skin and fitted bathing suit peeking under. If one is striving for boho-chic simplicity, then incorporate a hint of the crochet craze into the look by hanging a square-patterned Urban Outfitters tote over the shoulder.
Psychedelic Prints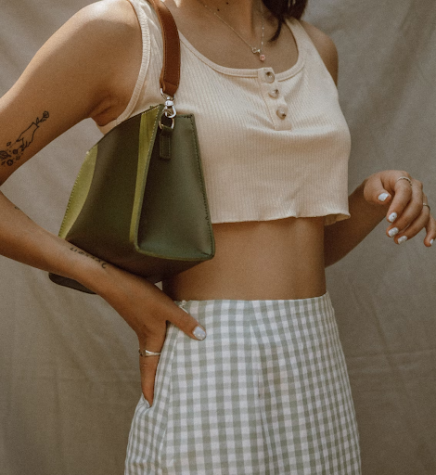 Infuse summer vibrations and expressions of self with swirling patterns that emit a certain groove. Branding companies, including Pacific Sun wear, manufacture exclusive tie-dye and psychedelic whirls that are back in the fashion vernacular. This style is widely considered symbolic of rebellious, unconventional, and anti-establishment culture. The prints are particularly relished in fur-trimmed vests, wide bell-bottom denim trousers, flowing cropped tops, and floral embellishments on garments. In a phenomenon noted as "dopamine dress wear," neon, print, and checkerboard graphics take control over traditional florals and clashing fabrics matched liberally. Drift through this season with these strange and diverse patterns often sold in convenient sets to make a timeless statement. Pair with black platform boots and minimal jewelry to accentuate the pendulum effect of the mood-boosting textures with an edge.