Sparkle, Shimmer, & Shine All Night
2022 Prom Fashion Essentials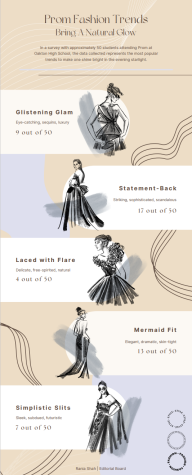 Prom, a culmination of friendship, school spirit, and four exhausting years of learning essentially coming to an end before the final wave goodbye at senior graduation. For students at Oakton High School, Prom symbolizes the transition from their childhood years to the blossoming of adulthood. However, with the rise of virtual learning as a result of the COVID-19 pandemic, students are left in question of whether this magical night will ever be the same.
According to the Oakton Leadership Team, Prom is once again in session as these teens emerge from the pandemic with glam from head-to-toe. Only this year comes with the promise of a night where fairytale dreams come true, hinting at the new theme "Happily Ever After." With glistening gowns ranging from luminesce sequins to simplistic slits, it is especially difficult to come to a decision on what to ultimately wear in expressing one's exceptional voice. Based on these fashionable Oakton residents and high school students, these are a few considerations and highlights of this year's dress code.
Glistening Glam
For those who prefer to strut in the night like a true star, this shimmer and shine look is perfect for just that. This eye-catching style is centered around sequins, rhinestones, and luxurious fabrics truly designed for a celebrity. Whether the gown is maxi, midi, or even mini in length, this look is sure to make an impact in style. If aiming for an elegant hint of glamor, the full-length maxi gown is essential.
Statement-Back
Here is a chance to show off skin yet illuminate a classic and sophisticated look. While the silhouette may be tight or flow with timeless elegance, the look is bound to grab all attention with striking designs and cut-out pieces. From strapped corsets to bold backless styles, this gown has quite the scandalous versatility to turn heads and drift with ease. An interesting technique in the back of the gown, like asymmetrical straps or keyhole details, celebrates the beauty of curves with no need for additional prints.
Laced with Flare
An enchanting delicate draping of silk fabrics and effortless undertones, this look carries a certain romanticism through the night. Take it to the next level and incorporate a little free-spirited personality into the look by opting for pastel and neutral shades. This brings bohemian essence to embrace natural textures and compatible fabrics consisting of cotton and linen. When in search of a boho-chic gown, keep an eye out for flowing skirts, intricate embroidery, and exclusive detailing involving tassels, beading, and lace.
Mermaid Fit
Making a splash, breeze through the night like a goddess of the sea in this skin-tight style. The look highlights every curve with fit bodices yet voluminous layers that flare out at the brink of the knees. This "tail" exuberates the utterly elegant features that lie below the waist in alluring detail, characterized by ruffles, lace, or beading to dangle and offer dramatic movement to this slim gown design.
Simplistic Slits
For a sleek and subdued look, make an impact with a stunning slit gown to show off the legs. Escape the retrospect, and glance into the future with tech fabrics and strapped techniques. While the upper half of the gown typically remains conservative, the lower length section offers a subtle display of skin that carries a charming attitude. In hopes of highlighting the hourglass figure, opt for a bodycon dress with a front mini slit paired along with lace-up slender heals to personify glamor.
Still caught in a haze of confusion? Luckily, for convenience and additional perspective, refer to the infographic on the right to determine which style will elevate the true fairy tale dream. Focusing on the now, it is important to choose a hemline that celebrates features collectively while illuminating a glamorous spin to steer clear of the past and leave a magical mark.