Like it or not, it's that time of year again. Days filled with tedious work, sports, and socializing
with friends are seemingly chaotic and overwhelming. However, the best way to tackle this is by
making sure everything school-related is organized. Having a certain desk to do homework on, a
lunch to look forward to, notes highlighted with colorful markers, or a favorite daily water bottle
to bring to school helps school feel more bearable and less stressful.
One way to stay organized is through a planner, but since most Oakton students' school lives
revolve around online work, Notion is a great way to write down important assignments (as soon
as they're assigned!) and keep track of when they're due in either the calendar setting or a fresh
page. Notion is a popular note-taking/planning tool for its easy navigation and simple way to
beautifully organize dull work, study sessions, and after-school activities.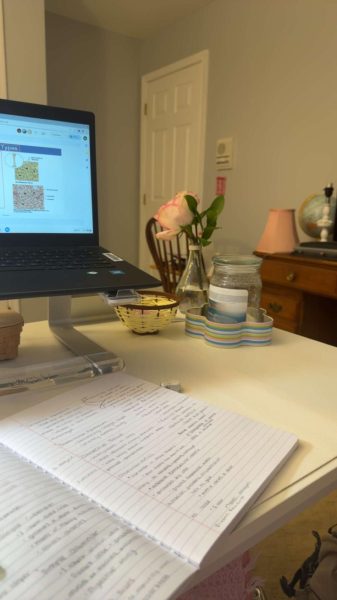 Another, more obvious way to stay organized is to come to school with a prepared backpack.
Some supplies to stock up on include water bottles, writing utensils (highlighters, pens, pencils,
and markers), and either a binder or notebook/folder for each class. Some students find it
helpful to reorganize their backpacks based on whether the day consists of Burgundy or Gold
classes. Pack your lunches in advance (link to Mari's lunch idea article) to remain healthy and
able to process information throughout the day.
Furthermore, keeping a separate space at home to only do schoolwork has been known to lead
to increased focus and productivity. In this space, a clean, organized setup, a timer (for use of
the Pomodoro method), a snack, and school supplies should be arranged with only the task at
hand within reach. Another tried and true option for procrastinators is to have two assignments
open at once, and by procrastinating on the first assignment, you work on the second, and vice
versa.
Study playlists:
Fall playlist (good for studying) https://spotify.link/8kK3eu4Z3Cb
Studying/focus mix! https://spotify.link/FrQ9t96Z3Cb