A Touch of GRACE
In Busy NoVA a place of solitude goes almost unnoticed.
CJs TedX Talk about his artwork now on Display at the Greater Reston Arts Center
Friday afternoon, school is over, it's time to relax. I find myself in Reston Town Center eating ice cream from a small cup, sitting in an open square watching the fountain go through its cycles. There is a constant drum of people from nearby restaurants, Barcelona and Bartaco to my left, Vapianos behind me, Il Fornaio and Busara to my right. The industrial grotto is lightly saturated with people, businessmen and women taking a quick break before returning to the nearby buildings for another meeting, a few parents watching their children play in the fountain. Even at the end of the week, a terse energy that fills the space. Looking outward past the fountain, there is a small structure that catches my eye, from where I am sitting it looks like a tiny hut. I walk over to check it out.
It is a hut. It's larger than it looked, but that isn't the surprising part. The entire structure is made from branches wrapped together and intertwined to form curving walls and arched doorways to walk through. The interior feels exciting and new, I am no longer in a busy square on a friday night, but lost somewhere you have never been.
After exploring the structure I walk out one of its main doors and back into a friday evening, there is a plaque with information a couple feet away.
"The Greater Reston Arts Center and the Initiative for Public Art – Reston thank the generous sponsors of this project"
The Greater Reston Art Center? I had never seen it or even heard of it; I pull out my phone and Google it. The results pop up and I quickly navigate to Maps. The the screen pings  my location, and right behind me, a gallery. I turned around gave the building a glance and took a mental note accompanied with an audible "huh."
That was the second time I had ever heard of the Greater Reston Art Center. It had been hidden in plain sight for the years that I walked around Reston; a small, unassuming building slightly blocked by trees but more noticeably obscured by the constant rush that  never leaves the town center.
The Visit
When people think of Art, what do they think of?
Paintings, drawings, sculptures, the usual comes to mind.
And all of that is definitely art, but there is something more.
Something that leaves an impression, invokes a feeling, and creates thoughts.
That something is what we find beautiful.
I found myself standing outside the gallery looking at the windows, which were completely black from a hard plastic that had been put on the other side. I made my way to the door and took a step inside. The gallery was dark except for a few lights coming from my left, illuminating a work space for the staff. To my front was a desk and to my right was a room lacquered with shadows. I was promptly greeted by Sarah Sadler, Assistant Education Director for the art center. She let me know that the exhibit is just to the right and if I had any questions I could ask her, I thanked her and walked towards the dark room.
Now, before I went to the gallery I took a look at the website to find the hours open for visitation and to familiarize myself with the current exhibition "Synthetic Transformations", by artist Shih Chieh Huang. "Synthetic Transformations" is an amalgamation of sculptures formed from everyday items and electronics to create kinematic art that lives and breathes with the viewer. The individual pieces are all controlled by a central motherboard called "The Brain", which uses motion and light sensors to determine the actions of portions in the room based on which sensors are triggered by people walking by.
I heard a slight click as I stepped towards the exhibit.
The room began to glow.
Sadler thinks back to the first time she saw the exhibition: "The first time he turned it on, we didn't know… and it just took us by surprise." A statement that I can relate to. The space slowly comes to life as an assortment of plastic appendages hanging from the ceiling  inflating and deflating around you, hanging in the center of the room is a large electronic creature that fills the room with light as its plastic limbs dance around. As you walk under the smaller creatures they brush you and recede as you leave them behind. In one corner of the room there is a TV playing video of eyes looking about the room; small light sensors on the screen identify when the pupils are looking at them and trigger a fountain that sits in front of you.
"
"…and it just took us by surprise""
— Ms.Sadler
You can't help but find a spot in the space to just stand and watch. A stack of yoga mats in a corner of the room invites you to lay down and watch it from below opening up a whole new perspective to see from. "I love the environment that he creates… You feel under and within it, [as if] you were under water," said Sadler.
The experience is alien, the sculptures are alive and responsive, you feel like you're on another planet.
The Artist
The artist himself, Shih Chieh Huang, who goes by CJ, made his art part of his life from early on. While growing up in Taiwan , "he would take apart toys and put them back together," said Sadler, who worked with Huang in assembling the exhibition. "He didn't know English, so his teachers worked with him and allowed him to turn in these machines, these creations that he put together [that demonstrated] topics they discussed…because he didn't have a handle of the language yet". It wasn't until college that Huang began seeing his creations as art. After turning in one of his machines to a sculpting class he was taking, his professor returned it to him and encouraged him to pursue his own art during class, ignoring other assignments. "It was one of the first times that he was really encouraged to take it seriously as a work of art, and from there his body of work grew into what it is now".
The Art Center
Something important to note is that this organization isn't just a gallery, but an educational facility intended to bring art into the lives of residents in the area. According to Sadler, "It's a third of what we do… so a lot of our effort goes into reaching out to the [parts of the] community that don't necessarily know much about…contemporary art, which is our particular focus", and though it may be a third of what the Greater Reston Art Center does, it likely is the part that makes the largest impact.
The Center runs an art  program in local elementary schools known as GRACE Art, where they create hour long lessons on art and parent volunteers sign up to give the lessons in class. The program itself has been running since the 70s and goes into just under forty different elementary schools across Fairfax County with the goal of creating artistic and cultural environments for kids to enjoy. The lessons cover different artists or art themes throughout history and include a supplementary activity for the students to play around with and show their understanding.
"
"The point is to establish some cultural literacy and enhance their understanding of art. [We want them to know] why it's so important.""
— Sarah Sadler
Although the program hasn't made its way into middle schools, GRACE does have programs in three of the local high schools, South Lakes, Herndon, and Oakton. The program; Emerging Visions, takes students from the schools and brings them to the gallery exhibition to see and talk about the art. "We talk about the work, we discuss a specific theme that is given for that years project, then the students go back to their classes and create works of art surrounding the theme," Sadler said. "Then in the latter half of March, youth art month, we put on an exhibition of that work in the gallery." The project is multimedia, students can create their art from any material they see fit, which creates a lot of potential for personality and individual style. It is a way of getting art oriented individuals to broaden their view on the art they can produce and give them an opportunity to have it presented in a public space.
In house, there are different workshops for both kids and adults throughout the exhibition, but at any time visitors are free to go to the Explore More section of the gallery. There they will find Explore More buckets filled with different items that match the exhibition's theme, of which you are encouraged to either follow an included activity or create your own art. "Kids come in and make whatever they want… [it works] to deepen their understanding of the artwork," Sadler said.
I took the opportunity to dig into the Explore More buckets and create a souvenir to take home.  I found myself absorbed into the different materials; a plastic bag, an LED light, a battery, clear film tubes, plastic gloves, rubber bands, neon orange putty, some plastic ties, bubble wrap, and a paper plate. Before I knew it I had created my own little bit of art, a "pet fish" with a single glowing eye, and a bit more of an understanding how "Synthetic Transformations" came to be.
GRACE Art has been playing an integral role in the Fairfax community for several decades, and until recently I hadn't even known. I don't think that I am the only one either. In a world that moves so fast, it's understandable when our surroundings begin to blur and subtle undertones get lost in the confusion. But the few hours of drawing, cutting, gluing, sculpting, and painting that Elementary aged kids still get several times a year, the ones high schoolers like me can still remember. Those are brush strokes that we can still see today, brush strokes that The Greater Reston Art Center taught us how to make. Just like the meaning of any great art, it's hidden in plain sight just waiting for those who search.
So go, find art.
GRACE will be waiting.
About the Contributor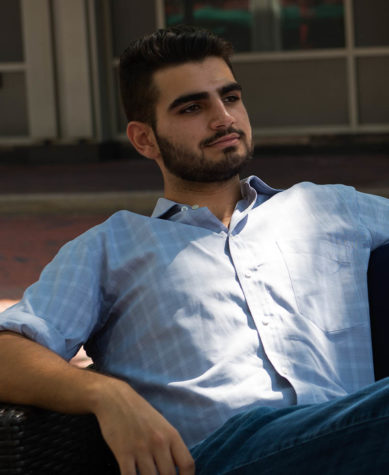 Steven Stavrakis, Editor In Chief
An Editor In Chief of the Oakton Outlook, musician, mountain man, politically inclined and philosophically compelled. Several years of writing, traveling,...