Midway 2016-2017 NBA MVP Contenders
The NBA has featured several potential MVP candidates for the 2016-2017 season. However, there can only be one MVP so who deserves to win it?
At this point in the NBA season, we're a little over halfway through and have witnessed stellar play from dozens of players. Several unexpected players have made pushes to put their name into the MVP conversation such as Isaiah Thomas of the Boston Celtics. Other players such as James Harden and Russell Westbrook have met or exceeded expectations carrying a major load for their team. Otherwise, the sleepers in the MVP conversation so far have been Kawhi Leonard and LeBron James who have received little to no recognition for their efforts. Unfortunately, only one player can be selected as the sole MVP, so who truly deserves it?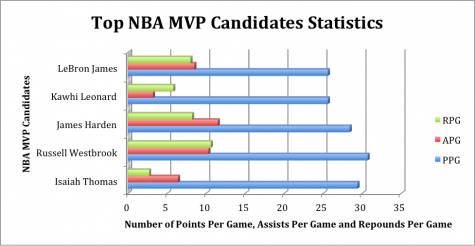 "Mr. Fourth Quarter", also known as Isaiah Thomas has been named rightfully so. Thomas has scored 20+ points four times in the fourth quarter alone, whereas any other NBA player has only had one 20+ scoring point game in the fourth quarter. In the month of January, Thomas averaged 32.9 points a game, the third most in a month in Boston Celtics' history behind only Celtics legends Paul Pierce and Larry Bird. In an overview of the whole season, Thomas is averaging 29.4 points a game which is second in the NBA and 6.4 assists. Not only that, but Thomas has a PER (player efficiency rating) of 27.61 ranking in at fifth in the entire NBA which is also ahead of superstars DeMarcus Cousins and James Harden. It's clear that Thomas is carrying the offensive load or the Boston Celtics and his offensive ability could be contended as top three in the NBA. Despite his offensive superiority, his 5'9 frame can sometimes render him as a liability on defense.  
We have "Mr. Fourth Quarter" and then "Mr. Triple-Double" Russell Westbrook, who is literally averaging a triple-double. On the season, Russell Westbrook is averaging 30.7 points, 10.6 rebounds and 10.3 assists each time he enters the court. If Westbrook were to finish the season averaging a triple-double as he is projected to, he would be only the second player in NBA history to do so along with Oscar Robertson. His 30.7 points rank in at number one in the NBA between all players while in the assist category he is third and first in rebounds among point guards. The heart and fire Westbrook plays with each game is an intangible not seen in any other player. However, two issues Westbrook faces are his tendency to turn the ball over frequently and his low field goal percentage. Several games that Westbrook plays in will headline with him shooting >40% field goal percentage and turning the ball over more than 5 times. These faults sometimes have a heavy toll on the game and result in negative effects because of such low efficiency.
In late January of 2017, it was reported that James Harden has scored or assisted on 50% of the all the Houston Rockets' points, despite there being 14 other players on the team. "The Beard" has averaged the most assists in the NBA as well at 11.5 assists. Harden is also third in the NBA in terms of scoring at 28.4 points and he adds 8.4 rebounds a game bringing himself to a near triple-double. Luckily in Harden's case, his defense seems to have improved or at least to put it lightly, not be as weak. "Chef Harden" has certainly been cooking it up this  season and has nailed 157 threes. Although, as a result of Harden having to handle the ball so often during the game, he ends up often turning the ball over one too many times as he is averaging 5.9 turnovers a game. Last season, Harden set the record for most turnovers in a season with 374 passing Artis Gilmore for this record. At the rate Harden is going, he is on track to smash his own turnover record.
Arguably the best two-way player in the league, "The Claw" Kawhi Leonard has for the most part gone under the radar this season even with his spectacular play. Leonard is averaging a career high in points and assists with 25.6 and 3.2 respectively. Another career high for Leonard this season is his PER which is in fact third in the entire NBA at 27.97 clearly highlighting his productive and efficient play. Further evidence backing up Leonard's efficiency is that he is shooting 41% from behind the arc this season which is something not even sharpshooter Klay Thompson is doing. On the defensive end, Leonard is stripping the ball 1.8 times from his opponent something he had matched last season and blocking the ball 0.7 times. Not only this, but he also clocks in the least amount of minutes among the top MVP candidates with 33.7 minutes a game meaning he is doing as much in less time. One weakness that could be seen in Leonard's game is his low assist numbers. While Leonard was never known for his passing, he is no slouch either although he averages very little in the assist column. His 3.2 assists this season is even more comparably lower when put next to the statistics of fellow superstar LeBron James. To take his game to the next level, Leonard should likely work towards improving his court vision and passing abilities to further his already elite game.
For the first time in recent years, LeBron James has gone relatively unnoticed on the court this year and instead has been headlined more often for what he has been saying off the court such as his confrontation with Charles Barkley. Despite this, James is getting it all done on the offensive end averaging a near triple-double and has also greatly improved his shooting compared to his other seasons since his return to the Cleveland Cavaliers. While James has always been known for his phenomenal passing abilities throughout his career, he has even elevated his assist numbers this season to a near career high (he averaged 8.6 in the 2009-2010 season) of 8.5 assists a game. James has taken on more of a playmaker role as he has previously commented in late January that the "Cleveland Cavaliers lack a playmaker". This quote has since then gained backlash and his comment has received persistent ridicule. This goes to speak on something James has been criticized for his whole career, his competitiveness. It is well known James is an unmatched athlete; however, he is also someone who normally will not take the big final shot in a game and someone does not show as much of a will to win as Kobe Bryant and Michael Jordan once did. His lack of competitiveness or lack of taking initiative and tackling the task on his own is something that has been shown to a higher degree this season. If James changes his mentality towards the rest of the season, he is sure to bring his game to a whole new level and win MVP.