From Syria to DC, a family who fled for their life
An inside look on what it's like behind the Syrian Civil War
Hang on for a minute...we're trying to find some more stories you might like.
On March 15, 2011 anti-government protesters filled the streets of Daraa, a city in Southwestern Syria. Chants and cries were heard, blended together to create a uniform force. They all had one goal in mind: to get justice for the arrest and torture of fifteen innocent school boys. The boys,ages ranging from ten to fourteen, had snuck out one day after Isha (evening) prayers and wrote "Ejak el door ya Doctor" which means "It's your turn, Doctor." The anti-government statements written on the wall of their school jokingly insinuated that it was time for the evolutions to come to Syria. The anti-government statements referenced the revolutions going on in Libya and Egypt. The government does not care if they're just school boys,it was still anti-government in their eyes. One of the young boys, Hamza Al-Khateeb, became the symbol of the revolution. His mutilated body was given to his family in a bag a month after he was arrested.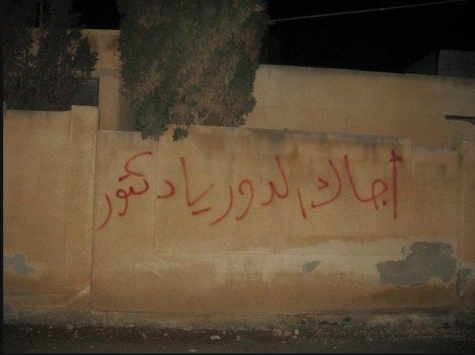 Sana,11, fled to America from Damascus almost four years ago. She was eleven when her family came over here, but still has the daunting memories of life in Syria at the start of their civil war. "The Syrian people have been living under oppression and injustice for the past 45 years, and they have had enough. Those young boys were innocent," Sana explains, "The torture of those children started the uprising. Protests soon spread across the country marking the beginning of the Syrian Revolution. Despite the fact that the government brutally knocked down the protests, Syrians continued to come out to the streets demonstrating for freedom."
Although the protests were peaceful, the Syrian government turned to violence to respond. "People used to hold bottles of water and roses to give to the police. They wanted to show them that they were only protesting for freedom and peace. However, freedom has a price, and the price of freedom in Syria was endless blood," said Sana. Living in Syria, Sana has personally seen protests and how violence can suddenly erupt from them. She witnessed many protests, but there's one that she can never forget.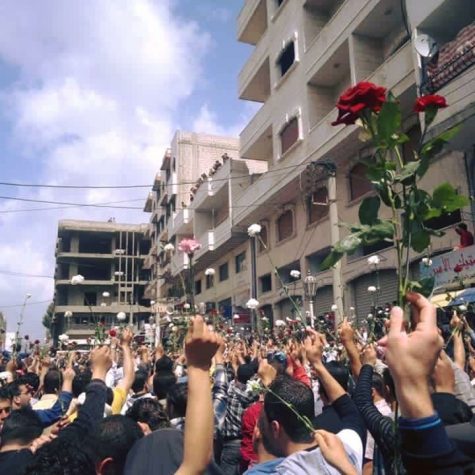 She was at one of her family member's house on a Friday morning when she saw the protesters outside suddenly running. Police officers were there to arrest the protesters. Some protesters hid in the buildings, only to get caught later by the officers. The officers threw tear gases at the protesters. Two officers ran after a protester and started hitting him with a metal stick. Another courageous protester passed the officers on his bike and slapped him across the face.This made the officer stop and chase after the protester on the bike instead. Later, the women on the balconies tried to scream the officers away. Sana also joined in from her balcony. "We went to the balcony to see everything. We all started yelling at them. All the women. I was crying so much.It was so scary, I was shaking.",Sana says.The unified yelling finally overwhelmed the officers and forced them to leave.
"I saw that and it was the scariest day of my life." ,Sana says.
Another account she remembers from life in Syria was at night at one of her friends' house. Sana and her friends were watching a movie when they started hearing people outside protesting and chanting, and sounds of bombs by the Syrian regime. " It was so unexpected at night. It was around 10PM, and we suddenly started hearing sounds of bombs," Sana says, "It was horrific. I will never be able to forget that night."
While Sana and her immediate family have escaped the war, some of their family still live in Damascus. It's the safest city in the war torn country to live in. "Obviously they're facing hardships. There's no water. There's no electricity.", says Sana. Her mom's side still lives there while some of her dad's side have come to America. There was a point that they decided it was enough, and decided to move to America, because they had some family members already here. "[We decided to leave] because it started to get worse. It reached a point that we knew it was going to get worse.", says Sana. Some days they were even afraid her dad wouldn't come back from work.
The transition of leaving her home and moving to a new country was difficult. "When I came here it was really hard because I was really homesick and because my friends and family were over there.", Sana says. Recently President Trump signed the executive order: Protection Of The Nation From Foreign Terrorist Entry Into The United States. It indefinitely suspends admission for Syrian refugees. It also bans people from seven countries for 90 days: Libya, Somalia, Syria,Iran, Iraq, Sudan, and Yemen. And it suspends the US Refugee Admission Program for 120 days. It has affected many people who are from those countries and especially refugees who are in life-threatening situations.
Her family is greatly affected by this executive order, because it makes it unsafe for Sana to travel to visit her family in Syria. Her family in Syria also won't be able to flee to America to join Sana if it ever becomes too dangerous. "Obviously we can't leave now and we can't go see anyone in our family. My mom hasn't seen her parents since we left so 5 years. My mom can't see her mom. I can't see my family." Sana says. She is hopeful though that the war will end soon but also realistically aware it will most likely not. Sana plans to go back to Syria once the war ends. "I just hope one day to go back. I do really wanna go back. I mean it's my home there's no place like home. Nothing's going to be the same anymore I know that", Sana says. Hopefully one day Syria can finally get justice for the schools boys and the millions that have been affected.