The Ever-Evolving Prom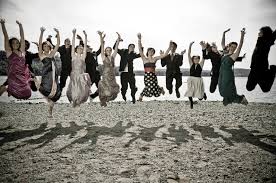 Hang on for a minute...we're trying to find some more stories you might like.
   Before the invention of sliced bread, prom has been a tradition. That's right, the delicacy we all enjoy today was invented after the night which some of us anticipate since our first year in high school. Prom seems to always be raised to the highest pedestal as a night in which dreams come true and in which anything that can happen, will happen.
   Prom originates from the word promenade, or the formal introductory parading of guests at a party. Modern day prom has the party aspect right, but how much has changed since prom's birth?
   Prom can actually be traced back to 19th century America, better known as co-ed banquets that were held by universities for each year's graduating class. Promenade was held to reinforce and introduce formal etiquette for the student's life after college. It was a light, directed event that was held under the eyes of antsy chaperones. Over time, however, the prom-suitable age declined, until reaching the high-school seniors and juniors in the 1940s. With the decline in age, came a decline in formality.
   With the post-war economic boom in the 1950s came an increase in budget of the venues, gymnasiums were thrown out to be replaced with country clubs and hotels. That tradition hasn't seem to be lost, as Oakton's prom this year was held at the Waterford Banquet Hall. Along with the better venues came bands and music for entertainment. Add this to the adolescent participants, and it becomes a mess of crazy dancing, formal dinners, and although many wouldn't admit, drinking.
   Prom relevancy has also fluctuated. A chart from Google Books Ngram Viewer shows the relevancy of prom related terminology since the year 1990. Interestingly, in 1990 the most prevalent prom term was "prom queen", while today it is "senior prom". This shows the ongoing phenomena of the decreasing importance of the prom court.
   Oakton's prom this year was a loud event for upperclassmen, as many gathered in groups with their dates to take pictures indoors, since it was raining outside. Others then packed into restaurants like The Cheesecake Factory (which had a wait time which was longer than one hour) and Brio. It wasn't hard to spot students all around Fair Oaks Mall who were heading to prom, with their intricate dresses or suits and fancy hairdos.
   The idea of prom itself may have originated more than 100 years ago, but that doesn't stop students from enjoying the night to the fullest today. Whether it be the dance, the date, or the dress, prom is a tradition that is sure to be carried on for generations to come.
Dancers at Miami University Junior Prom, 1912