How Oakton High School students came to decide their next home
Oakton High School features of a variety of students whose different personalities are reflected in their college decisions and the process of it. Here's how they settled on their decision of where to stay for the next four years.
Hang on for a minute...we're trying to find some more stories you might like.
Choosing your main source of education and ultimately your home for the next four years is likely one of the if not the hardest decisions a teenager has to make when deciding their college. Many sorts of things appeal to different sorts of students when it comes to selecting a college. Some enjoy the riveting experience of a large student body as well as campus as they indulge in school spirit activities while others may prefer a more quiet environment focused less on the social aspect with some in between. Seniors from Oakton High School reflect the same diversity in their decisions of where they will be staying the next segment of their lives. Below are four talented individuals who describe the college selection process and how they chose the right home for them.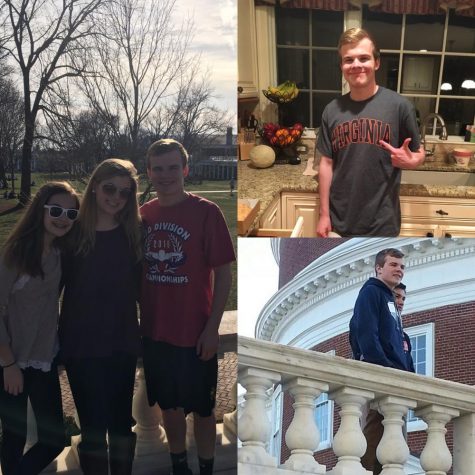 As someone who had a plethora of interest in Virginia universities, Justin Turner eventually decided to attend UVa (University of Virginia) in the fall of 2017. Among other colleges, Turner was accepted to Notre Dame, William and Mary, Villanova, Virginia Tech and James Madison university. The qualifications that these universities had that Justin looked for was their quality of academics, their variety in class offerings, the feel of a campus and its location and really how affordable the college is especially in relation to its level of tuition. Fortunately, public universities in Virginia tend to be very strong schools and ranked some of the highest in the nation such as UVa being ranked 24 while William and Mary is ranked 32 by US News and World Report.
Beyond these loose sets of criteria, Turner also prefers that the college be nearer to home, a solid academic reputation; however, also a place in which there is a sense of pride associated with the school campus. Although there is plenty of things that appeal to Turner, there is also certain things he does not particularly like such as the college being in an urban setting or schools that focus too much entirely on academics as they do not provide the "full college experience".
When it came down to the final decision for his college choice, Turner was faced with choosing the University of Notre Dame or UVa. In spite of the fact that he acknowledged that Notre Dame has an attractive community feeling, it was the UVa's college town and location that really enticed him but also because it has high level tuition for a more affordable price.
To future applicants, Turner says this: "stick with your gut. When you visit schools, take note of the school or schools where you really feel at home. Also, academics are a big part of college, but also keep in mind other aspects of the school, like location and student life. Go for a school that suits your personality!".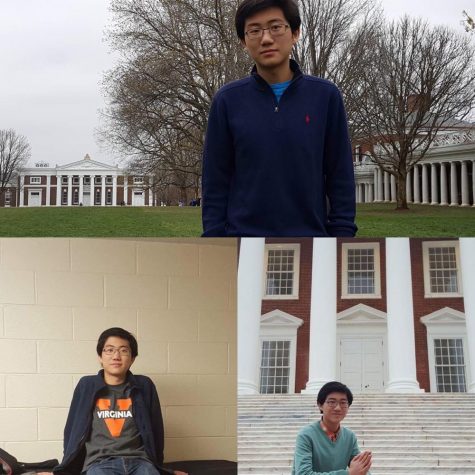 There were plenty of schools Eric Guan was accepted to yet like Turner, it was the "half price of an out of state of school while still providing world class education" that made Guan seriously consider the universities in Virginia. Notwithstanding a preference to in-state schools, Guan selected his top choices of universities to attend (aside from high level academics of course) based on an engaging environment and a campus he would never tire of even after four years. By using the US News and World Report's' ranking of universities in his prospective major of computer science and his visits which he made sure to do at his preferred universities, the culminating experiences then led to him narrowing his list to ten solid schools he could see himself staying at.
On the other hand, if the college doesn't seem interactive or entertaining in some way, the school is a big no-no from Guan. This amusement (or lack thereof) could consist of boring scenery, lack of diversity or a limited "party scene". It's also important that the university is reasonably close to Guan's family in order to be able to visit them during holidays in which he described his family as tightly-knit. Something Guan pointed out that may apply to those reading this is that colleges do spend a considerable amount on their infrastructure/campus and recruitment and so if either is uninviting, "then it's probably not the place for you".
When it came down to choosing for certain what university Guan would attend, he knew he would likely attend UVa even keeping this preference in mind as he applied early action to UVa before getting in. The decision was not difficult to make because UVa met much if not all of Guan's criteria in that he loved the campus and the people in it, the school was close but far enough from his family that they wouldn't be able to "control him", the professors were seemingly passionate about his field and finally the academic reputation UVa possesses for its in-state tuition.
For those who may be starting their college selection process soon, Guan says this: "start early. First semester of senior year ends up being really, really hectic/crazy: even more so than junior year. If you have extra time in the summer after junior year, I highly recommend starting or even finishing essays over the summer, or at least the common app one. I mostly finished my common app during the summer, but didn't really start specific essays for other schools. This resulted in me rushing to finish them days or even hours before they were due. They actually take quite a while to write, so I would advise applicants not to take them lightly. As for where to go/how to pick, I would just say to just go where ever you feel comfortable. College, more than high school, is what you make of it. It's better to become an adult in a place you love than a place you feel forced in".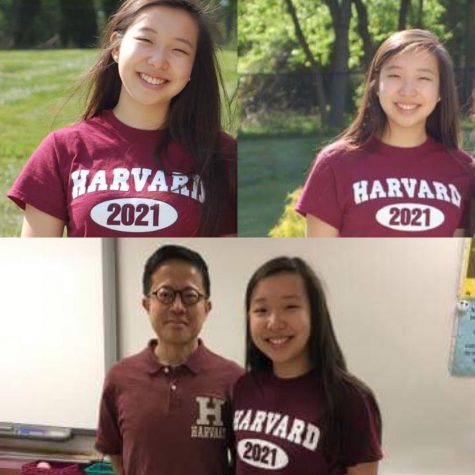 Getting accepted into both Yale AND Harvard, Michele Wang is a student who could certainly be acknowledged for both her high school achievements and now for the next stage in life being accepted into some of the world's most prestigious educational institutions. Knowing her level of ability and the credentials to her name, Wang recognized that she was capable of being accepted into Ivy League universities.
However, when she began her search for universities, she looked for strong academics according to these subcategories: size/quality of your intended major's department, professor accessibility, research opportunities as well as the student life based on the residential system, diversity of clubs, culture/vibe on campus and if the school could provide financial aid. Other considerable things that are a bonus although not not a necessity is the climate of the area, its location and size, the food they provide and the "quality of their college meme group". Schools that were immediately crossed off her long list of options were mostly subject to its location as ones that are located in a rural setting or on the west coast were eliminated from contention. Recognizing that the removal was subjective, Wang contended that potential applicants should always apply to a school that would make them happy.
A dilemma that many students cannot say they struggled with is deciding between attending Harvard or Yale in the fall of 2017. What made it most difficult for her to decide between the two was that she became emotionally attached to both universities who featured similarities in their student life and overall academics. Whilst it did intimidate her; it was the thought of Harvard potentially being more academically challenging as well as more developed in her major of computer science that she thought would provide her more academic opportunities to succeed in.
For those who are preparing for the troubles of college applications, Wang offers this advice: "visit the school if possible— it will really help you picture how you'd fit in on campus and decide if the school's environment fits you well. Talk to current students and ask them to tell you about both the honest pros and cons of going to that particular school. Lastly (this is cheesy but I think it's true) follow your heart; you can make college awesome no matter where you go!"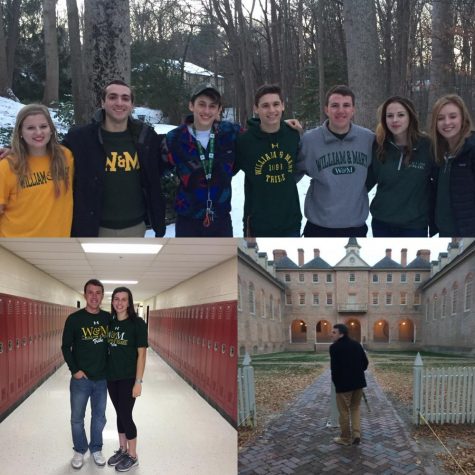 From the beginning of eighth grade, Ben Wagner was William and Mary all the way and knew for sure it was where he would want to be. Furthermore, it was the only university he applied to therefore he he did it during the early round where he was accepted. His certainty of where he wanted to attend and the fact that he only applied to one school is something that he recognized as what made the process relatively easily. It's a path many more students should follow should they know which university holds their heart as it takes a substantial amount of stress off one's shoulders.
What swayed Wagner so early on was that William and Mary had a suitable size, an abundance of interesting classes and the majors offered, but also the and pride of the school was of utmost importance. Additionally, William and Mary is both a place that Wagner could find entertainment but it is also somewhere that is academically invigorating which he sought out. What couples as a con towards other colleges and a plus for William and Mary in Wagner's opinion is its student population. Reputable universities tend to be quite large in student population, a pattern in which William and Mary does not follow with a mere size of 8,617 students including both graduates and undergraduates. To Wagner, this was a chance to better know his peers due to smaller class sizes and more outspoken opportunities.
Don't follow the crowd is what Wagner preaches and provides this bit of advice: "my advice would be don't go with what school everyone else is going to, but pick a school that you step on campus and never want to leave. Pick a school that has classes that truly interest you and excite you".