Oakton Theatre Presents Shakespeare's Much Ado About Nothing in First Ever In-School Assembly
A classic Shakespearean play with Oakton's own modern twist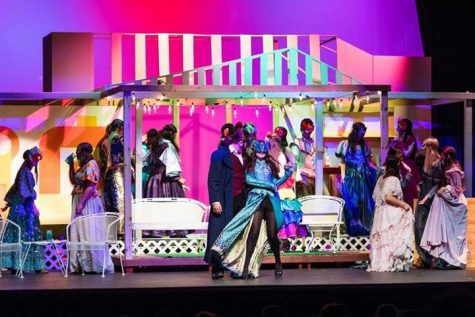 Hang on for a minute...we're trying to find some more stories you might like.
The long awaited show of Shakespeare's Much Ado About Nothing, presented by Oakton Theatre, has arrived. After watching the much anticipated show last Friday in a first ever in-school assembly to watch a production, it is definitely worthy to take some notes of this quirky rom-com.
Commonly presented as a story which takes place in Messina, a small city located on the island of Sicily, this 16th century production is not the typical Shakespearean love tragedy and instead integrates a touch of humor within the intricate love plot. In a brief rundown, Much Ado About Nothing centers upon two couples: Claudio and Hero as well as Beatrice and Benedick. At Messina, a messenger reports that Don Pedro, prince of Aragon, has returned from a victorious battle, Claudio being one of his soldiers in the army. Beatrice, Leonato's niece, hides her affection for Benedick, Don Pedro's accomplice, by making sarcastic remarks and playful insults. Having finally returned home, Claudio races to reunite with Hero, Leonato's daughter, and win back her heart so they can marry. Watch as the two couples seemingly drift apart but fate brings them together in the end.
However, here at Oakton, the drama department has decided to put a spin on this Shakespearean classic by  having the story take place in 1970's California, "The Hippie Age," decked out in hippie decor and vibrant costumes. A pastel spray-painted wooden patio is the center of attention while rustic wooden benches flank each side of the stage. Actors dressed in bold, patterned costumes enter the stage, immediately in the spotlight as all eyes are directed toward them.
Oakton Theatre has set the expectations high with Much Ado as actors not only embody the personality of their character, but also integrate their own style into their performance that is unique to them only, making this show an attention grabbing hit. Oakton's Much Ado is a lighter twist on the original play and is the perfect show for anyone looking for a laugh and the classic fairy tale ending for couples.
Of course, putting on such a production was not a simple task. Actress Mena Dolinh, a junior this year, who played the part of one of the messengers in the first scene said one of the biggest challenges was deciphering Shakespeare's language. "Since it's Shakespeare, the problem was not only memorizing lines, but also getting into the character where the lines could be understandable to the audience." Dolinh kicked off the show in the first scene, where she delivers her message before taking off on her skateboard. "On stage, it felt really nice to go out and see the audience first. When you perform the first time, it is really exciting since there is so much more energy than when you're just performing in class." When summing up this experience, she says, "Although I played a small role in this production, the cast was so tight knit that everyone feels that they are included in something and you really bond over lines that can turn into inside jokes. I think it was also good to act in a Shakespeare play because it really makes you appreciate his work more."