Exceeding The Expectations for "Reputation"
How the new Netflix film "Taylor Swift Reputation Stadium Tour" appealed to old and new fans alike.
Hang on for a minute...we're trying to find some more stories you might like.
The Netflix film, Taylor Swift Reputation Stadium Tour, will entertain fans of the "old" Taylor and the "new" Taylor alike. Though Swift is clearly in a new era, with a darker look, sound, and plenty of snake imagery, glimmers of artist who became famous for her girl-next-door persona came through.
"
The snake thing was kind of like a big shove back at the people judging her."
— Juliana Krush (11)
The film is of the last concert of Taylor Swift's U.S. Reputation tour in Dallas, Texas. It had a mix of numbers with elaborate backdrops and backup dancers and songs with just Swift and her sparkly snake-green guitar. The extravagant, snake-clad sets and plethora of backup dancers were some of the highlights of the show.
"It kinda made it seem like a big party and not just music," said Juliana Krush (11), of the sets. "[and] the snake thing was kind of like a big shove back at the people judging her."
In front of these sets, Swift sung everything from mashups of songs on her newest album, Reputation, to throwback hits like "Love Story" and "All Too Well". Since the film came out, dedicated Swifties and former haters alike have begun singing her praises. However, it wasn't always like this.

Loading ...
When the first single of Reputation, "Look What You Made Me Do", came out in August 2017, the fans were split. Swift's proclamation that "Old Taylor can't come to the phone right now. Why? 'Cause she's dead" concerned many fans of the "old" Taylor: the good girl who sung sugary sweet country-pop songs about first love with her guitar in hand. When the full album came out, many of these fans were not any more comforted. This new era of Swift sounded completely different from all of those that came before it. She was singing full on pop songs, focusing on not just love, but equally so on revenge and darker themes. This new Taylor seemed completely different from the old one, and the tour follows suit.
From the opening scene of the film, it's clear that this is the tour of the "new" Taylor. After a dramatic video filled with old clips and voices talking about her reputation, she starts out with a bold rendition of "Are You Ready For It" followed by a couple more of her new songs.
However, after the intense start, Swift takes a break for a moment, talks to the crowd, and introduces the names of her backup dancers. Most singers do not introduce the people who make the show happen to the crowd. Swift, in connecting with the crowd and the rest of the performers in her show, demonstrates that she is still the genuine person she was when she started out with her first album ten years ago. This is not the only instance of this in the show; at one point, she even walks through the crowd and shakes people's hands. The show is an equal mix of her new edgier songs, her old classic songs, intricate sets filled with snake references, and low-key numbers, with just Swift and an instrument.
The "old Taylor" will never be dead as long as Taylor Swift keeps connecting with her fans. If you have ever been a fan of Swift or her music, you should watch her new Netflix film.

About the Writer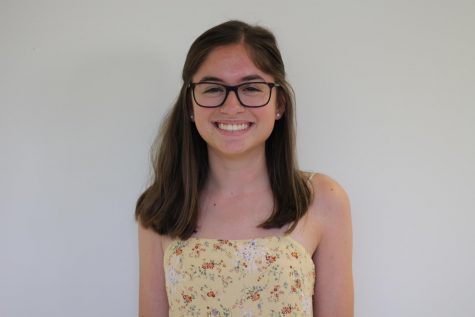 Olivia Garrone, Editorial Board
Hi! My name is Olivia Garrone,  I'm a senior and a member of the Oakton Outlook Editorial Board. I love writing A&E articles and features on the Oakton...