Reinventing Normalcy: Ways that Parents can Prepare for the Strangest Halloween Ever
October 31st of 2020 will prove to be a spooky challenge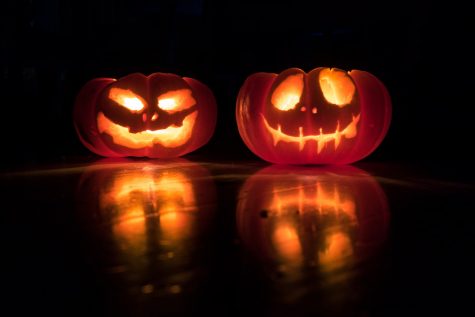 Image courtesy of David Menidrey on Unsplash
A year ago, the idea of having to plan for a socially-distant Halloween could have been laughed off as silly. Now, half a year into a pandemic that has claimed the lives of 215,000 Americans, parents across the country need ideas to plan for a Halloween unlike any other. The activities so commonly associated with the holiday, from costume shopping to trick-or-treating, must be rethought in the wake of COVID-19. Certain activities, like bobbing for apples, will likely end up on the pumpkin carving block, but with a couple clever strategies parents might still be able to make this a Halloween their kids will never forget.
1. Candy on the front porch
A classic yet effective way to social distance on Halloween. This practice was popular even before the COVID era, used mostly by people who enjoyed the holiday but not having to constantly answer their doors throughout the night. Now, leaving candy outside ensures quarantine safety while also giving kids the satisfaction of trick-or-treating.
2. Socially distant trick-or-treat groups
As most parents have learned over quarantine, kids need social interaction. Whether this takes the form of a 6-feet-apart hangout or a virtual study group, keeping in contact with friends has been essential to many kids in staying happy while at home. Before the pandemic, it was not uncommon for groups of friends to get together for parties and trick-or-treat groups. With a few adjustments, parents could still make this a possibility. Enforcing a 6-foot rule while outside is usually more than enough to ensure that everyone keeps their germs to themselves.
3. Shopping for costumes online
In past years, costume shopping at Spirit and Party City were hallmarks of Spooky Season. Now, however, many families don't want to take the risk of going indoors and breathing the same air as others, even with the protection of a mask. That's where sites like Amazon come in. Parents can order the costume their kids want in two sizes, and just return the size that doesn't fit at no additional cost. Party city and Spirit also have online portals, though their shipping policies and times may be different than Amazon's.
4. Encouraging the use of masks, both medical and themed
The best strategy for parents to follow in a pandemic is to make the pandemic work for them. Rarely has a holiday with an emphasis on mask-wearing been more fitting. Halloween of 2020 can be an opportunity for a unique learning experience: teaching kids that wearing a mask can be fun as well as safe. Whether they learn this by going from house to house as Batman or by enjoying a medically-conscious night out with their friends, weaving enjoyment into a message of safety can be the best strategy a parent has for making Halloween work during COVID-19.