George Harrison's All Things Must Pass
Does it still hold up 51 years later?
 Throughout The Beatles' discography, from "Please, Please Me" in 1963, to "Abbey Road" in 1969, George Harrison's pure musical talent was becoming more and more evident. Often being limited to one or two songs on each album, his contributions went from throwaway tracks to the highlights of the record, like The White Album's "While My Guitar Gently Weeps" and Abbey Road's "Something" and "Here Comes The Sun"
After The Beatles broke up in April of 1970, each member of the band went on to release solo material. Paul McCartney's aptly titled "McCartney", Ringo Starr's "Beaucoups of Blues", and John Lennon's single "Instant Karma! (We All Shine On)". The world eagerly awaited George Harrison's solo debut. 
On November 27th, 1970, Harrison released All Things Must Pass, which instantly reached #1 on both US and UK album charts, along with the album's single, "My Sweet Lord", which peaked at #1. The album also received widespread critical acclaim on its release, with Rolling Stone Magazine calling it "both an intensely personal statement and a grandiose gesture, a triumph over artistic modesty"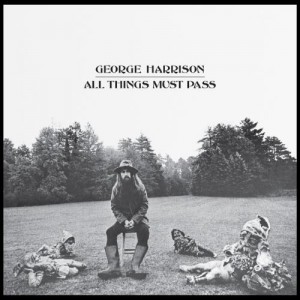 The original vinyl release was spread across three records. The first two records being 18 studio songs, and the third, labelled "Apple Jam," was a collection of 5 improvised instrumental jam sessions, ranging from 48 seconds to over 11 minutes. 
The album features a multitude of different themes and sounds, from beautiful ballads such as "Isn't It A Pity" and the title track, "All Things Must Pass", to cheery love songs like "What Is Life" and "If Not For You", a cover of a Bob Dylan song. Dylan also co-wrote "I'd Have You Anytime". 
Another prominent theme throughout the record is religion. Harrison had become Hindu in 1969, and sings about religion and his experiences with it throughout most of the album. He does this either subtly in songs like "Beware of Darkness", or explicitly in songs like "Awaiting On You All". 
One song in particular I would like to highlight is "Isn't It A Pity", which closes side one of the record. The song is one of many present on the album that is in response to The Beatles' arduous breakup. However, the message of "Why must people hurt each other?" goes much further than The Beatles.
"And because of all their tears, Their eyes can't hope to see the beauty that surrounds them. Isn't it a pity?" 
Even in the title of the record, the topic of death is heavily featured. Owing to Harrison's aforementioned Hindu faith, his outlook on death is rather positive, viewing it as just another part of life. In no song is this theme more evident and beautifully portrayed as the albums' title track, "All Things Must Pass". The piece talks about accepting death, moving on, and proclaiming that "Daylight is good at arriving at the right time". The piece could also be interpreted as a way of Harrison coping with the death of his mother; who had passed away months before the recording of the album began.

George Harrison

Overall, this album is both lyrically and sonically a masterpiece. The lyrics are touching and the sound varies greatly throughout the record, but never feels out of place. After being constrained for over a decade with The Beatles, Harrison's newfound creative freedom resulted in one of the best rock albums of all time.

10/10