'Scuse the Dust! | Sitota Mesfin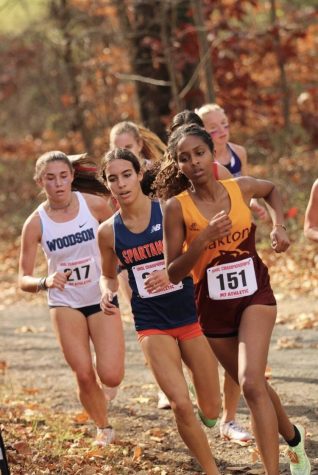 Running is a sport that takes a lot of dedication and sacrifice to excel at. Sitota Mesfin gives an insight into her experiences with the sport, and how it has shaped her high school years thus far. 
Sitota has been on both the track and cross country teams since her freshman year at Oakton, with her only previous experience being occasional 5k participations. Sitota's extreme skill in the sport is very impressive, and simply can't be brushed aside. Sitota has earned the title of #1 district player during the 2022-2023 season, allowing her to be recognized for her monumental abilities by various colleges. The future surely looks bright for Oakton High School senior, Sitota Mesfin.
As Sitota finishes up her last year in high school, the consideration of continuing her running career at the collegiate level comes into play. Mesfin is currently talking to a number of D1 schools, including; William and Mary, American University, and Virginia Tech. All of these schools are known to have an excellent program for both track and cross country. Currently, Mesfin is focused on what school would mesh best with her needs, and hasn't made a verbal commitment to any of the schools yet. 
Even a skilled runner such as Sitota struggles with a little bit of insecurity in her abilities. Sitota mentioned that during previous races, she went into them with the completely wrong mindset. These thoughts and self doubt ultimately affected her performance. However, during districts Sitota mentioned that she felt in control and fully prepared for the miles ahead of her.  She felt a feeling of reassurance the moment she crossed the finish line, granting her the title for the #1 district player. 
Runners have been known to have some sort of 'ritual' before the events of their race to boost morale and confidence for the big moment. Sitota and her team have some of their own. Wearing a flower somewhere on their clothing throughout the day is a common one for the team to partake in, as well as creating CDs with songs chosen by team members to listen to before postseason races.  As for Sitota's individual rituals, she likes to motivate herself through words and phrases within the confines of her notes app. It's easy to access throughout the day, and can be found on her phone whenever she feels like she needs a little positive boost. 
Track and Field, as well as Cross Country, can be very intimidating sports for those who are just starting to get into it. Sitota can recall the feelings of being exhausted when she first joined the team. However, she mentions how she kept to it, and eventually it became second nature. Sitota is living proof that if you genuinely put your mind towards something, you can achieve an abundance of your goals.