Science for the kids
Students at Oakton work with local elementary school students to discover science in a new light and inspire them to keep on learning.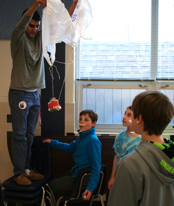 Hang on for a minute...we're trying to find some more stories you might like.
What are the necessary steps to make a volcano that can explode? What is the best way to drop an egg without letting it break? How do you make ooblek? What is the best way to make a paper airplane? How should you build a bridge out of straws so it can support pennies?
Its questions like these that Oakton students who participate in the Kids Are Scientists Too! Club (KAST) work to answer while interacting with elementary school students at Oakton Elementary and Navy Elementary. The goal of the club is to simply make science more fun for the students who participate them, and to introduce them to topics outside of the classroom in a potentially more fun way. Club member Junior Shannen Prindle said, "We really work just educate kids about science by introducing concepts to them at a young age. We have experiments for them, and hopefully they're inspired by them." Although elementary schoolers are learning about more advanced topics such as tectonic plates and physics, it's through small experiments so its easier for them to understand the concepts.
The club has recently expanded, and now visits both Oakton ES and Navy ES. The sessions are also a lot more common than they have been in past years. The young scientists that participate at Navy ES are visited every other Thursday as part of the SACC program. According to Junior Leela Ayyar, "It's nice to give them the opportunity to learn in a way that they may not usually have access to." The kids who participate choose to come to the "science club", so it's only the students who actually want to learn that attend.  Likewise, at Oakton ES only students who want to attend sign up on a week-by-week basis to meet up with the KAST club every other Friday from 4-5.
For funding in order to pay for all the activities, club members do have to pay dues. Additionally, there are fundraisers throughout the year to pay for supplies. However, this allows for the elementary students to participate, no matter what their circumstances are.
For the actual sessions, students break up into groups in the school cafeteria, and one or two KAST club members are with each group to give them more personalized instruction. "This way, we're there to consult with them, and ask them follow up questions on the procedures and why they are doing what they are doing", said Prindle. There are usually about 5 club members and 15 students when the KAST club visits the ES, so each group gets much more attention that they normally would in a classroom environment, and it's more hands-on teaching.
Because KAST is a national program, session outlines are sent to Oakton's co-presidents of the club. KAST has been a program for 6 years, but the state of Virginia has only been participating since 2011. The state of Virginia also has the largest number of high schools that have KAST programs.
Senior Kristin Putnam, co-president of the club, said, "It's fun to watch the kids have fun- they always have cool ideas." As someone who many potentially work with kids in the medical field as a pediatrician, Putnam
enjoys this club as a way to spend time both with children and science.
But who would be a good fit for this club? According to Putnam, "Pretty much anyone who likes kids. And science. And really both of them together." In order to be a member, it's not necessary to know everything about science- you just have to be willing to talk to and interact with kids. Both Prindle and Ayyer are enjoying their first year part of the club. When Prindle saw KAST at the cougar kick off, which was both a science club and interacting with kids, "I just knew I had to join". Ayyer said, "I'm actually really into inspiring kids, especially girls, to reach their full potential in science." 
Being a part of the KAST club is a good way to give back to the community through service. However, it's also a way to have fun after school with friends and help out elementary school students learn more about science. While it may not be for everyone, many students would enjoy participating in this club.