North Korea and the Inevitable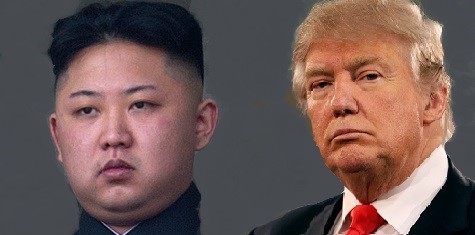 Hang on for a minute...we're trying to find some more stories you might like.
On the rainy day of July 16th, 2015, Donald Trump announces his bid to run for president. What happens next, transforms international relations forever.
The Beginning
After World War II ended, Russia and the United States posited themselves on two sides of Korea. The Russians looked southbound at the 38th parallel, and searched for signs of trouble while Americans and South Koreans tried to regroup and recover in the south. On June 25th, 1950, North Korea invaded South Korea, and pushed their army down to modern day Busan. The South Koreans did not have enough resources to stop them.
Two days later, President Harry Truman sends additional troops to South Korea to defend against what the United States perceives as the sweeping tyranny of communism.
On July 28th, 1953, a little over three years later, North Korea and South Korea agree to a truce, and label the 38th parallel and it's surrounding areas at the demilitarized zone.
Since then, South Korea moved towards a more democratic and free regime, while North Korea remains more closed and censored. The tensions between the two countries remain today.
The End of the Beginning
During the Clinton administration, North Korea began extensively building its nuclear program. Previously, Soviet Union soldiers had began training North Korean soldiers about technology, but it was nowhere close to what they were building now. North Korea builds nuclear reactors, begins piecing together crude missiles.
The U.S. then removes nuclear weapons from South Korea at an attempt for an easier peace. North Korea tries at an attempt for an easier peace by inviting the IAEA (International Atomic Energy Agency) to inspect its nuclear facilities. Inspections reveal that North Korea obstructs investigation at every turn, and hides extraneous plutonium production. Existing production is deemed dangerous.
Before the Agreed Framework, the Clinton Administration weighed attacking the North's nuclear program using air strikes, but decided against it in the end. The world teetered on an edge, unsure of what to do after these findings. IAEA was angry that organizations like the U.N. continued to let North Korea continue their operations despite the obvious risk. From an outsider's perspective, any wrong move could set off the metaphorical (and literal) bomb.
Countries are not willing to risk the anger of North Korea and its allies, China, and Russia, but also worried about the weapons buildup that is unwieldy in the hands of an unpredictable leader like Kim Jong-il. Negotiations continue over North Korea's nuclear program. The U.S. tries to compromise with the aforementioned Agreed Framework, where North Korea agrees to halt plutonium in return for help building hydropower, oil, and economic cooperation from the U.S.
On January 10, 2003, North Korea makes a devastating change in international politics: it backs out of the Treaty on the Non-Proliferation of Nuclear Weapons. The departure from the treaty suggest serious violations, only to be revealed that North Korea had withdrawn due to suspicions of the Bush administration trying to manipulate North Korea into giving up their nuclear weapons.  Then, Bush alienates North Korea with his iconic sentence: "States like these and their terrorist allies constitute an axis of evil, arming to threaten the peace of the world."
North Korea watches.
Bush pushes sanctions internationally, specifically U.N. Resolution 1718, which strips North Korea of many luxury goods. On the 20th of May in 2015, two months before Donald Trump announces that he will run for President, Kim Jong Un announces that North Korea possesses nuclear weapons that have the capacity to hit the U.S.
The Beginning of The End
Trump's administration announces that the time for diplomacy with North Korea is over. Vice President Mike Pence warns Pyongyang that this administration's way of international relations is unlike any of those before. He says: "We're going to abandon the failed policy of strategic patience. But we're going to redouble our efforts to bring diplomatic and economic pressure to bear on North Korea." Pressuring North Korea in hopes they will come back the negotiating table was the United States' solution for an uneasy peace for a long time. Mike Pence's talk is purely posturing. Politicians and historians watch and worry.
Citizens watch it unfold, but are either apathetic, powerless, or both. Supplant this with an comparably unpredictable President Donald Trump, who has declared that a North Korean intercontinental ballistic missile "won't happen", which has been interpreted as Trump's "red line" in which he'll intervene militarily, and citizens have a right to be worried. Along with the new President, North Korea has been increasing missile tests. They are mostly failures, though this doesn't alleviate the concerns of countries like Japan or South Korea, both geographically closer and more at risk if North Korea decides to ever act on their ambitions.
The U.S's THAAD (Terminal High Altitude Area Defense) program instituted in South Korea works – but only on ballistic missiles. The more pressing issue is that North Korea can mount nuclear weapons to ballistic missiles. Artillery (which missile defenses can't stop) would hurt, but not as much as a nuclear weapon would. North Korea would try and fire in salvos to try to confuse missile defense radars, but they are not likely to be successful. As of now, the only way North Korea gets a nuclear weapon through current defenses is if they mount their nuclear weapon on a hypersonic glide vehicle (which only China and maybe the U.S. have), or if they overwhelm defenses by sheer force of number (but North Korea doesn't have many warheads as of right now). However, even though the probabilities of a nuclear war are low, authorities are still afraid, and for good reason as well. North Korean biological and chemical weapons are devastating, as seen by the semi-recent murder of Kim Jong Un's half brother Kim Jong-nam in a Malaysian airport. North Korea seems to posture back: "We can kill anyone we want to as quietly as we did, or as large of a scale as we want to if provoked."
China's influence on North Korea has been pushed aside as if it was irrelevant because China hasn't met a certain time frame for compellability, to the terror of many. CNN says: "North Korea's UN deputy representative, Kim In Ryong, responded, warning that the US actions and rhetoric have "created a dangerous situation in which thermonuclear war may break out at any moment on the peninsula and poses a serious threat to world peace and security."" President Trump modifies Teddy Roosevelt's famous philosophy of "walk softly and carry a big stick" to "stomp loudly and swing around a huge bat."
The United States and North Korea seem be to engaging in a battle of proxy by showing off. North Korea won't give up its nuclear weapons because they think it deters the U.S. from pursuing regime change. North Korea has seen the U.S. intervene to overthrow dictators in Iraq, Libya, and more recently, Syria – all countries without nuclear weapons. Libya even gave up their nuclear program. President Trump ordered the MOAB (Mother of All Bombs) against regional ISIS fighters in the Middle East. This was meant to signal to North Korea that Trump is willing to use overwhelming force. Kim Jong Un has conducted 5 underground nuclear missiles. Departing from Obama's "strategic patience", the situation only escalates.
It culminates in a hostage-like situation where Kim Jong Un has detained Americans to negotiate for supplies.
The End
Nobody knows how this will end. Nobody can predict what Donald Trump will do or say. Nobody can predict what North Korea will do or say. It's all based on how we interact with each other. That is why the silence is so terrifying. Who knows what will happen over the next four years?