Delicious or Disgusting?
Thanksgiving Dish Ratings
As the weather continues to get colder and crisper, the anticipation builds for the best holiday in regards to food…Thanksgiving! By taking a survey, Oakton students have been given the task to rate the most popular dishes Thanksgiving has to offer out of ten.
Turkey
No one can imagine Thanksgiving without this unforgettable main dish. Although the results are scattered around, turkey received mostly 7/10s. Its average rating was a 6/10. Not a terrible rating, but nothing extraordinary either. The mediocre rating was probably given because turkey dries out often.
Ham
Ham proved to be less enjoyable by Oakton students based on its results; it earned an overall rating of 5/10. Almost half of the survey takers rated ham under a 5/10, so this obviously contributed to the low rating.
Mashed Potatoes
This popular side dish was a definite favorite. Mashed potatoes received a whopping 10/10 ratings from more than half of the survey takers! The mean score was 9/10, which is still relatively high. However, there was one outlier where mashed potatoes was rated a 1/10.
Sweet Potato Casserole 
The sweet potato casserole was another dish that had severely scattered ratings. Its most common rating was an 8/10, followed by 1/10 and 5/10, tied for second place. Its average rating was 6/10. Definitely, unimpressive compared to more generously valued mashed potatoes.
Mac n Cheese
Similarly to mashed potato ratings, this dish was loved by many of the survey takers. Mac n cheese obtained a 10/10 rating from 63% of the survey takers! Its general rating was 9/10.
Cranberry Sauce
This dish was disliked by many. More than 22% of survey takers rated cranberry sauce 1/10, however, the dish still managed to earn an overall rating of 6/10.
Roasted Vegetables
Yet another dish that had ratings all over the place. Its final rating was a 6/10, however, a good number of surveyors rated roasted vegetables a 7/10. 
Bread Rolls 
It's safe to say that bread rolls were absolutely loved. This is the only dish that was rated over 5/10 by all of the test takers. Over 50% of survey takers rated this dish a 10/10, consequently, bread rolls obtained a 9/10 average rating.
Stuffing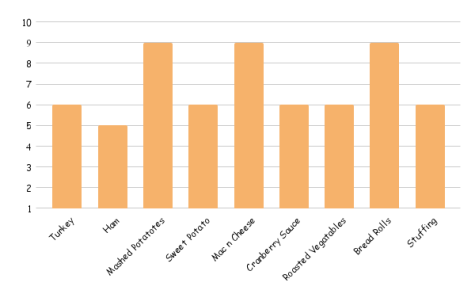 Just like the ratings of ham and roasted vegetables, the results for stuffing were dispersed ranging from 1/10s to 10/10s. Half of the survey respondents rated the dish under 5/10, and the rest of the respondents rated stuffing over 5/10. This affected its general rating to be 6/10.
Apple Pie or Pumpkin Pie?…neither?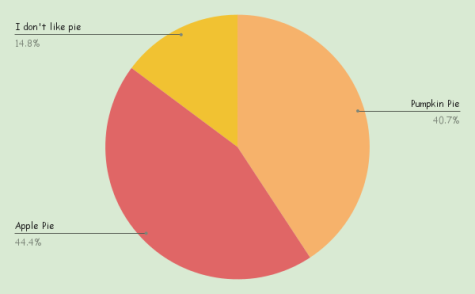 The last question of the survey was to choose between apple pie and pumpkin pie, or perhaps neither for the pie hater. The results are close, however, there is a victor.
44% of respondents preferred apple pie over the 41% of respondents who favor pumpkin pie. Additionally, 15% of survey takers expressed that they do not like pie at all.
At the end of the day, these ratings don't matter and shouldn't influence others' view on food. Happy eating!