Black Student Union standing up for inclusion
Wrapping up Black History Month with a spirit week leads to controversy
Hang on for a minute...we're trying to find some more stories you might like.
  To wrap Black History Month on a good note, Oakton's Black Student Union Club had a troublesome yet successful spirit week. Black Student Union, or BSU, is a new club formed to promote inclusion for all, including groups of blacks, whites, Muslims, Asians, and Hispanics. The club recently ventured out on a field trip to the African American History Museum for the day on Jan. 31. They learned all about the history and experiences of prominent black figures in America's past, all while bonding as a group.
  BSU spirit week was intended to be a celebration for the last week of Black History Month, beginning with Afro-Centric Day on Tuesday. The spirit week continued with a Blackout on Wednesday, Black Excellence dressing on Thursday, and Trayvon Martin Day on Friday. The intention of Trayvon Martin Day was to wear hoodies and carry Skittles and Arizona Tea, as this was how he was when he was shot by George Zimmerman on his way back from 7-11. However, the plan to wear hoodies and carry skittles and Arizona Tea for Trayvon Martin backfired when the spirit day was announced on the intercom Tuesday morning.
  BSU Founder and President Orah Smith was told that she was not allowed to name specific people in her announcement about the spirit day because FCPS did not approve. As a result, students, whether in BSU or not, were upset that they cannot speak about Martin because the administration feels uncomfortable. "Our Freedom of Speech backfired. Everybody should have the opportunity to show what they believe in, such as showing love and respect for Trayvon Martin," said Smith. "It is not okay for Oakton to tell people that they cannot express themselves," Smith added.
  Tagwa Shammet, Co-Vice President of BSU, was especially angered at the administration's response to the issue. "Since when are we not allowed to share how we feel about a 17 year old boy who was brutally shot for no reason?" said Shammet. "In honor of not only his birthday, which he can't celebrate anymore, but also his death anniversary, everyone in BSU wore their hoodies," Shammet added. BSU members handed out Skittles to students wearing hoodies on Friday. They asked students, "Why are you wearing a hoodie?" and if they responded with "For Trayvon," they gave them Skittles to show appreciation for participating.
  Shammet decided that if Oakton wouldn't let her practice her freedom of speech, she would exercise her freedom of the press by tweeting her feelings about this prominent issue. There was a handful of people who were confused about the tweets because they didn't know Trayvon's story. "It's sad because if people don't know Trayvon's story, one of the biggest police brutality and racial profiling stories, it means they don't know Elton Sterling, or Mike Brown, or Sandra Bland," said Shammet. "It's kind of annoying how when there are people unaware of this racial profiling, we have 'National Donut Day,' yet we can't have a day to celebrate Martin as his death anniversary is coming up on the 26th of February," added Shammet.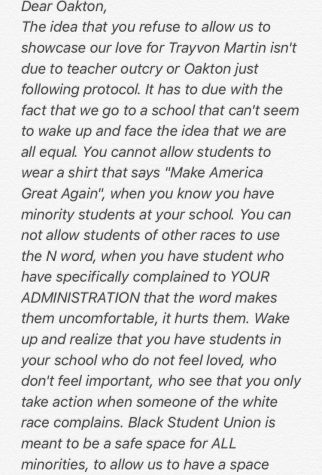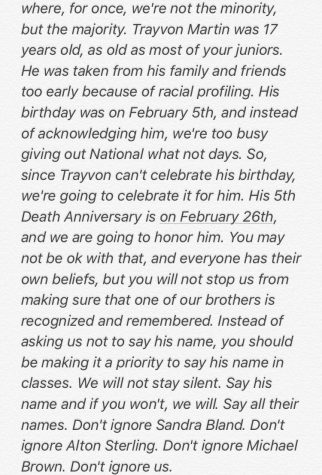 Although Shammet received a few comments from confused students, she also received empowering responses to her tweets. "It was so amazing — everyone became so excited and involved. Even students from other schools were tweeting their responses and it was very inspirational," said Shammet. A lot of people from around the area were showing their support for BSU and it made the officers very proud to see that their club is making a difference. It is good to see that even though there may be some intolerance in the community, there are still those who care about coming together and including everyone.
  This situation with spirit week has pushed minority students even farther away, which was one of the reasons why Smith started BSU at Oakton last October. Even in its first months as an official club, BSU has had success with the great diversity and inclusion of all. "For the first time, we aren't the minority anymore — we're the majority. And it feels good," said Shammet.
 Overall spirit week was successful for BSU, despite the bumps along the way. The fantastic officers and club members had a week filled with diversity and inclusion as a club. The issue with Trayvon Martin Day has just further inspired the club to make a difference and spread equality throughout the community. Come to Black Student Union every Thursday after school for inspirational talks, plans for further diversity, and fun times with friends.