FAQs About Starting the College Process
Everything you need to know about how and when to get started.
Questions about college cross every Oakton student's mind. For juniors especially, the time has come to get serious. Even for sophomores and freshman thinking, it's never too early to start researching college! If you have questions about how (and when) to start the process, have no fear. All of the most common questions for college-bound beginners are answered below.
Q: What is the difference between the SAT and the ACT? Which one should I take?
A: The SAT and the ACT are both college entrance exams. The SAT, scored out of 1600 points, has a reading section, a writing section, and a math section. The ACT is scored out of 36, and has more questions in less time. It has similar content to the SAT with the addition of a science section. Both tests offer an optional essay section; check the websites of the colleges you are interested in to see if they require or even look at the essay section before deciding to take it. As for which one to take? Like with the essay portion, confirm that the schools you will be applying to will accept whichever test you are leaning towards. If the schools you are interested in are like most schools and will accept either, do a practice test of both the SAT and the ACT at home and see which one you score higher on. Many people officially take one (or more) of each and send the higher score to colleges. For more information, check out the official websites for the SAT and ACT.
Q: When should I take the SAT/ACT?
A: You have to take your college entrance exams with enough time to get your scores before you submit them to colleges, so check out what the deadlines are for your schools before you do anything else. It is best to take it junior year, so you have time to take it again if you are not happy with your score. It is generally recommended to take your first SAT in March junior year, and to try again in June or August if you wish. If you are really on top of it, you can take it the August before junior year so you have the whole summer to study. However, do whatever works best for you; as of the 2018-2019 school year, there are seven SAT dates and seven ACT dates scheduled, including one in November and one in December, so there are plenty of options. Try to register a couple of months ahead of time as to avoid additional late fees.
Q: What is a good score?
A: There is no such thing as a "good" or "bad" score. You will get into college no matter what your test score is. In order to be a competitive candidate for the specific colleges you are interested in, find out the average SAT/ACT score for admitted students. If you go to the Naviance website through your Blackboard account, search the college of your choice, select the "admissions" tab, and scroll down to see a scattergram. The scattergram shows the stats (SAT score and GPA) of students from Oakton who applied to the university and whether they were accepted, rejected, or waitlisted. It is important to note that if your score is below the average score, you can still be accepted into the university! Colleges look at a wide variety of factors when admitting students, and SAT/ACT scores are just a part of it. In fact, some schools do not require either test.
Q: What are subject tests?
A: SAT Subject tests are individual tests on specific subjects, such as World History, Chemistry, and Literature. They are administered by the same company that administers the SAT, the College Board, and are offered on the same dates SATs are offered. However, they are a completely separate test from the SAT. Some students take a couple of them to show their strengths in specific academic areas. Before you decide whether to take subject tests, once again do your research and find out if the colleges you are interested in require or recommend them at all. The University of Virginia, for example, recommends them (meaning it is strongly encouraged). Other schools, such as Virginia Tech, do not look at them at all. For more information, check out the official website.
Q: When should I start my applications?
A: Many seniors recommend starting college applications during the summer after junior year. If you write essays when you have more time on your hands during the summer, you will be less stressed during the first few months of senior year. Current juniors can get started any time, as the 2019-2020 Common App essay prompts have already been released.
Q: I have more questions! Who do I ask?
A: Oakton High School has plenty of resources to prepare you for college and beyond. Visit the College and Career Center to explore your options and ask more questions about the college application process.
No matter what school you end up attending, you can have a great experience at college, get a good degree, and have a successful career. Try your best, but do not put pressure on yourself to get into competitive schools just because you feel like you should. Good luck!
About the Writer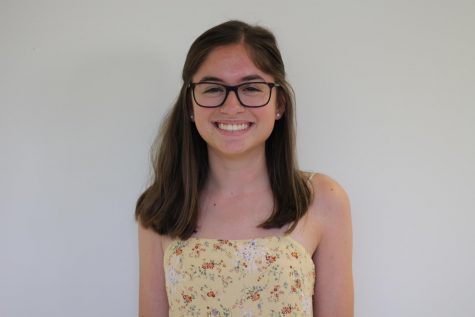 Olivia Garrone, Editorial Board
Hi! My name is Olivia Garrone,  I'm a senior and a member of the Oakton Outlook Editorial Board. I love writing A&E articles and features on the Oakton...