Braeden Johnson: varsity basketball's newest asset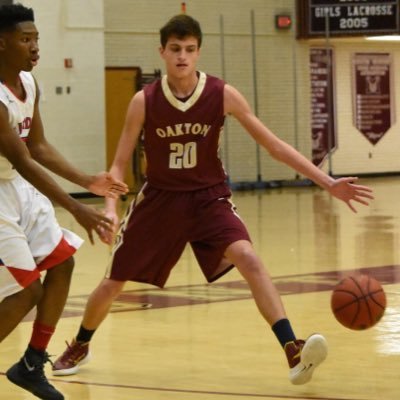 "Passionate". The one word that Braeden Johnson uses to describe his  drive for the game of basketball. Being on a varsity sport at Oakton shows something about one's character: determination, hustle, experience, and ability to excel in their respective sport. These are some of the traits that sophomore varsity basketball player, Johnson has shown on and off the court. Braeden is currently one of the leading scorers on the team and is already establishing himself as a necessary asset for the team's victory. "I first started playing organized ball at the age of six, but I had the rock in my hands ever since I was three" said Johnson. Johnson has always had basketball in his blood.
To be able to say you are playing varsity basketball as a sophomore is an impressive feat, but Johnson had thought about taking his passion seriously early on. "The first time I realized I wanted to be serious about the game was the summer of eigth grade. Even though I've been playing travel my whole life, it seemed like people were becoming better skilled than I was and I did not like that at all. That was the first summer where I really started to work hard," Johnson said. That hard work paid off when Johnson was a no-brainer to be placed on the freshman team, but when asked about his strengths and ability to positively impact the team Braeden replied: "my biggest impact on the team is that I'm a scoring threat, and that I can create plays to get other people baskets. Because I'm a sophomore the team can get more fired up and energized when I make the little plays to change the flow of the game, yet it's also been a goal of mine to become a threat defensively also." Johnson has clearly upheld his ability to be a major offensive and defensive factor with being one of the high scorers and low turnover ratio on the team.
Braeden also has big plans in mind for his future in the sport. "I definitely have big goals and expectations for myself at Oakton. I have to push myself and work hard and keep trying to better myself", Johnson said, "I think the future will be bright and I'm excited to see what I can accomplish". Johnson's actions on and off the court reflect how he will be in the future and the future definitely looks promising for Braeden Johnson.